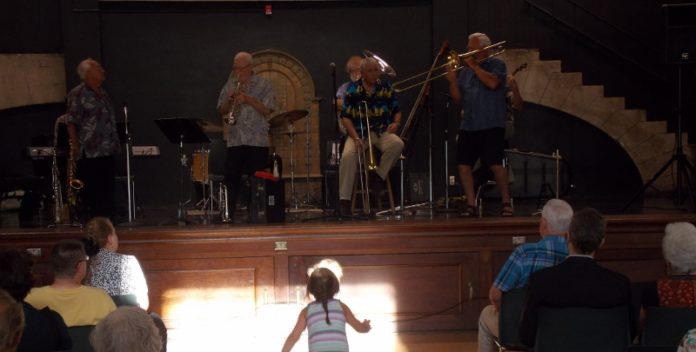 Throughout the summer, Hyde Park's Music in the Park program has brought the sounds of jazz, show tunes, classics, and country music to many on the lawns of the Vanderbilt and Mills Mansions when the weather cooperates.
When Mother Nature is not in a musical mood, the concerts must move indoors. And so they did Wednesday, Aug. 6, for a Dixieland jazz presentation by the ever-popular Bearcats Jazz Band, which performed to a full house at the state parks administration building, formerly Staatsburgh School.
Opening with a rendition of "Wait 'Till the Sun Shines, Nellie," the Bearcats sent a message of hope out for the series-closing concert by the U.S. Military Academy Band at Vanderbilt Mansion, held yesterday at 6:30pm (moved to FDR High School due to inclement weather).
Hyde Park Recreation Director Katherine Davis told the Observer, "We have had a mixed season with nearly half of the concerts outdoors and half indoors, and the Military Band concert always attracts a big audience, especially if we don't have to go indoors."
Davis added, "We have had good crowds all summer for our 35th year, but everyone likes the lawn concerts outdoors a lot more!"
Over 100 music lovers turned out last week, even though the anticipated Mills Mansion Dixieland presentation was forced indoors by stormy weather. "We are here because we love Dixieland jazz," said Ed and Joy McCurly, "plus, we are related to the tuba player, Greg, our son!"
The Bearcats, led by trumpet player Joe Hanlon and tuba player Greg McCurly, have been doing the Hyde Park concert scene for more than a dozen years, and once they get jiving, the audience, young and old alike, get right into it with some youthful ones dancing in the aisles, and older spectators joining in with the clapping of hands.
"Some of the eight of us are under the age of 60," joked Hanlon, "actually one of us is, and when we get our Dixieland started, anything can happen!" So after "Nellie" set a positive tone, they brought out Louis Armstrong and the "Original Dixieland One-Step" as they moved on to "Basin Street Blues" and finished up with "When the Saints Go Marching In!"
The 10-concert free series is sponsored by Rhinebeck Bank and several other organizations from June 4 through Aug. 13.
Along with Rhinebeck Bank, the Town of Hyde Park allots approximately $3,000 to cover the costs for visiting musical groups. Smaller donations are made by the Lions Club, Hyde Park Rotary Club, Knights of Columbus, the New York State Office of Parks, Recreation and Historic Preservation, and the Hyde Park Chamber of Commerce, while radio stations Wolf 94.3 and Radio Mix 97.7 provide coverage of each segment.
Davis also recognized the contribution of Ed Blodgett, who recently died but was instrumental in advancing the original idea for lawn concerts 35 years ago.
"It was his dream to see these concerts materialize, and he always went about getting donations and support each year until he passed away," she said.
Facebook Comments