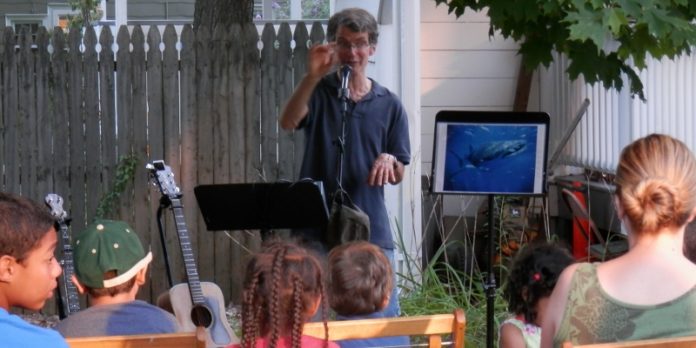 While summer is not quite at an end, the summer reading programs for kids have turned over their last pages.
This summer, all of the libraries in the Mid-Hudson Library System chose a science theme, "Fizz! Boom! Read!" for their children's summer reading programs, as did the rest of the state. Libraries throughout the area held various activities geared towards exploring the various areas of science, whether through experiments or science-themed texts such as those selected for "Battle of the Books," a regional reading competition for grades 6-8 and a national reading incentive program.
At the Hyde Park Free Library's wrap-up party, called "Take a Romp thru the Swamp and a Break by the Lake," children's librarian Janet Battistoni ended her summer programs on a sweet note Aug. 5: with ice cream sundaes and a sing-a-long.
The interactive sing-a-long was led by Tom Seeley, a musician who has performed at around 60 similar events across the state. Seeley, who led the crowd of 20 in such tunes as "The Hokey Pokey" and "Down by the Bay," said the event was his 14th show that week. Parents and children enthusiastically followed Seeley's lead in various dances and ad-libbed a few songs that Seeley wrote as he sang.
Rula Suleiman, a mother whose children, 4 and 7, have participated in Hyde Park library programs for the last three summers, said, "We come during the week and if we miss an event, we always try to make up for it by reading extra books at home." Suleiman said that the activities even inspired them to do mini-experiments at home.
Battistoni said this year she had around 72 children and teens, with one family visiting from Spain, participating in the programs, which ranged from story times to "Mad Science" experiments and even a hands-on experience with animals shown by the Animal Embassy at Norrie Point Environmental Center. These activities were in addition to the usual reading logs, which lead up to a reading certificate and free book at the end of the summer.
On the children's reading progress, Battistoni said, "I try to keep track of how many books they read over the summer, and they probably did around 1,000."
Over at the Staatsburg Library, director Lorraine Rothman told the Observer that, building on the success of the previous summer, they held 50 programs this July and August.
"We also began a special outreach program with the Town of Hyde Park Recreation Department Summer Camp at Hackett Hill. With the help of a small Summer Reading Grant from The Mid-Hudson Library System, the Staatsburg Library set up a 'satellite' library in the main building of the camp. We supplied bookshelves and hundreds of books (from donations and purchases) for readers of all grades and levels," she added, noting that around 170 children and 45 counselors and staff participated in the Hackett Hill program.
Aside from the Hackett Hill program, the Staatsburg Library had 617 children in its summer reading programs for pre-school, primary, and upper elementary; 204 teens and tweens in such programs as culinary science, Minecraft, and a teen build-it challenge; and 145 adults in the gardening and family programs.
Facebook Comments