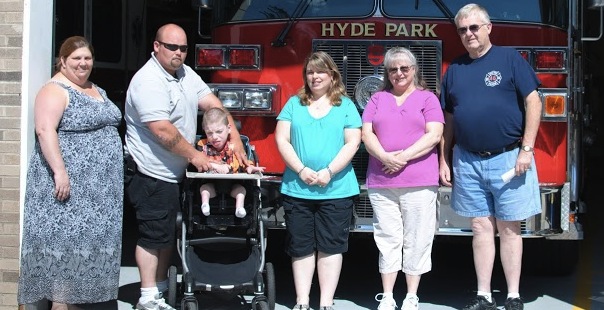 This year's Thomas J. Heupler Golf Tournament, sponsored by the Hyde Park Fire Department, raised $6,000, and the check was presented Aug. 14 to this year's beneficiaries, the Dolan family of Bloomington, N.Y. in Ulster County.
Rob and Tara Dolan and their two boys, Austin and Anthony, were chosen with the help of Iron Riders Motor Cycle Club of Highland. Nine-year-old Anthony has skeletal dysplasia, and the money will help with blood tests the whole family must undergo in order for doctors to better understand the condition and design future treatment plans.
The benefit tournament, which was held June 27 at Dinsmore Golf Course in Staatsburg, is sponsored by the fire department, and the money is raised through county-wide businesses that sponsor holes and tees throughout the course, as well as donating refreshments for the event. This year, 110 golfers participated, including the Iron Riders. All money raised goes to the family of a child in need, according to tournament committee co-chair Ray Davis, who is also the department treasurer.
The tournament is named for Thomas J. Heupler, a member of the Hyde Park Fire Department who died of cardiac arrest in 2003. Heupler was an avid golfer and he loved children, according to Davis, so the idea for the tournament seemed to be a natural way to honor his legacy. The tournament has been held the last Friday in June every year but one since 2004, and all together so far has raised $65,100.
Facebook Comments