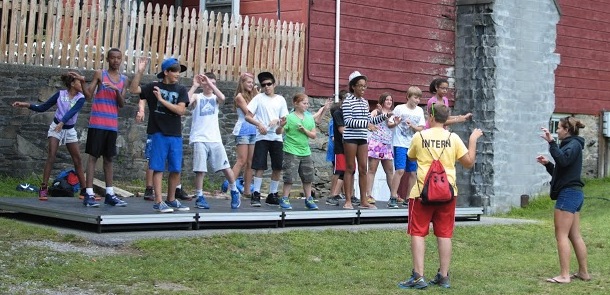 For seven weeks of non-stop action, the town's day camp filled Hackett Hill Park with laughter.
Five days a week, local children enjoyed "the quintessential summer camp" experience, a term Camp Director Clarence Devens uses to describe the many classic activities that were offered between 9am and 4pm each day: the arts and crafts barn, marshmallow roasting, field games, capture the flag, talent show, hiking, swimming, and many more.
According to Kathleen Davis, town Recreation Director, the average enrollment per week was about 100 kids ages between the ages of 5 and 13. There were 27 staff, including counselors, and about 15 interns, ages 14-15. The program cost $140 for Hyde Park residents per week.
On Fridays, the camp held its "big" events, which included a talent show and the very popular "Cruise through the Caribbean," where staff hid in the woods dressed as pirates and hid treasure for kids to find, as well as super hero movies that the kids wrote and acted, filmed by staff throughout the week and then screened, and a life-sized version of the game Clue performed by staff with campers as the detectives.
Throughout the week, campers were separated into age groups and moved from activity stations on a schedule; certain activities throughout the week lead up to Friday's big event. During Super Hero week, for example, the camp invited the Hyde Park Police Department and EMTs from Northern Dutchess Paramedics, while the older kids visited the Hyde Park Fire Department to meet "real life" heroes.
On the second to last day of camp for the summer, Aug. 14, staff members were transferring freshly tie-dyed shirts to dry, others were supervising swimming, soccer and s'mores-making, while still more were preparing the next activities and leading kids in dance practice for the big show the next day.
"The counselors are always nice and let us have fun," Emily Winters, who's heading into fifth grade next month, told the Observer. Her favorite activity was making s'mores.
Ahlicya Melendez, who is going into sixth grade, added, "My favorite thing is that we have fun and mostly that the counselors planned really fun things for us." Her favorite activity was pirate week.
Fifth grader Ryan Conniff attended every week of camp and liked it all, but his favorite activities were swimming and playing sports.
And fifth grader Ryan Romani said his favorite activity was capture the flag.
Justine Echandy, also going into fifth grade, spent her first summer at the camp and said the best thing about it was "spending time outdoors and with my friends."
Devens is in his sixth year as director and began as a counselor when he was 17. He ran archery one year, was program director one year, and then took some time off before returning to run the camp. For Devens, the fun is also about loving your work.
"When I first came back, there were counselors that I had had as campers when I was a counselor. Now I'm working with these people as adults and you can actually see that transition," he said. "To watch them go from kids to adults and for a lot of them, I'm their first employer. That's a lot of fun, to get over some of those early responsibility hurdles. I really like giving someone their very first paycheck."
Erin McCarty is in her fifth year as Assistant Camp Director. She started as a camper and did two years as an intern, two years as a counselor, and one year as the leader for "theme" before also taking years away and then returning.
"Times have changed, society has changed, but it's still a lot of fun to see the campers experience the basics again: making something in arts and crafts, being successful shooting a bow and arrow, winning a game of capture the flag," she said. The best thing about camp, she concluded, is "seeing [campers] experience the things that I remember from when I was a camper and seeing that torch passed on."
Facebook Comments