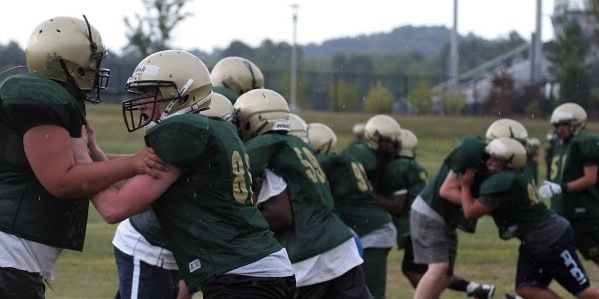 FDR High School's football team has reloaded for 2014, and is ready with a rock solid defensive line and an offensive backfield that has a mess of options, according to head coach Brian Bellino.
The new challenge for the Presidents this year will be the team's jump from Section 9 Class A to Class AA. But the new starting quarterback doesn't seem fazed by that.
Alex Marinelli, who is also a free safety and what Bellino called a top-notch team leader, doesn't give a hoot about the switch. "Competition is going to be a lot stronger coming from single 'A' to double 'A,' but people don't realize that we were only playing these teams two years ago, and we fared really well in the past," he said. "We're pretty confident in going up against teams like Pine Bush and Newburgh."
The last time the Presidents played in Class AA was in 2012. Bellino was in charge then, and more than a few players on FDR have AA experience. He sees the offensive backfield as the key to 2014.
Bellino said that the Presidents have a quartet of running backs who can play "on any level." They are: Avery Strother, who compiled 470 yards before tearing his right anterior cruciate ligament four games into 2013; Nick Amone, Kemyero King, and Nick DiCarlo.
FDR can expect to see a lot of Amone, who will be a starting defensive back, along with Christian Cappillino, who also suffered an ACL tear in 2013. Will Grega will anchor the defensive line, which Bellino called FDR's other greatest asset.
The coach is, however, realistic about his graduation losses.
"Certainly, we lost what I think was the best senior class since I've been here," he said. "It was just a tremendous group of seniors."
Among the losses were quarterback Matt DuPilka, as well as Karl Schroeder and Brian McFarlane, the anchors of the Presidents' offensive line. Bellino stressed that the offensive line is the No. 1 concern for his team, with only one starting spot locked down by sophomore tackle Neil Tompkins (6'4", 240 lbs) and three up for grabs.
"A lot of work, in the next few weeks, is going to be getting our offensive line ready to play," said Belino. "If we can get everything in order offensive-line wise in the next week or two, I think we'll be in good shape."
The second biggest concern for the Presidents, according to Bellino, is finding some depth in the defensive secondary and wide receiver positions, but it's not as pressing a matter as plugging the holes on the line; the team is only a week into preseason, he said, and backups will reveal themselves in time.
Bellino is confident that the Presidents can swing a playoff campaign in their return to AA, and is honest about how he feels about what the postseason means.
"We want to be as competitive as we can be on every play, in every game. We talk about this every year: nothing can start until you get into the playoffs. Our main goal is to make it to the playoffs — from there, we'll set some more goals," he said.
The Presidents wrapped finished 2013 with a 4-5 record, squeaking into the playoffs before falling to Wallkill in a shootout in the opening leg, 55-47.
Facebook Comments