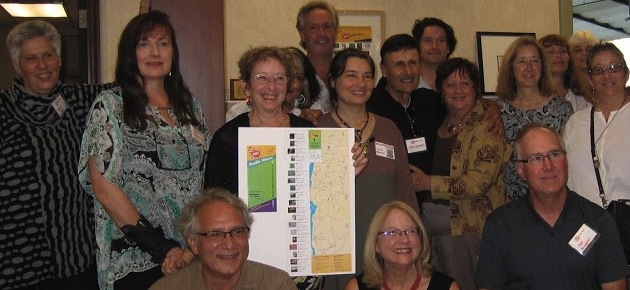 "Seven sensational years!" is how director Joanna Hess sums up the legacy of the Art Studio Views Tour, which will take place over Labor Day weekend from Hyde Park north to Germantown.
The art-loving public is invited to visit the studios of 19 artists whose works include painting, sculpture, photography, ceramics, jewelry, and printmaking. Along the route, you're invited to stop at the three ASV "hub" galleries for even more art appreciation (and tour maps): Artists' Collective of Hyde Park, at 4338 Albany Post Road; the Betsy Jacaruso Studio and Gallery, at 43-2 East Market St., Rhinebeck; and Red Hook Community Arts Network, at 7516 N. Broadway.
At the festive kickoff reception held in the Rhinebeck Bank's Atrium Gallery in Rhinebeck, on Aug. 14, Hess addressed the 30 attendees (including ASV artists) by first thanking Rosemary Bertelle, the bank's vice-president of marketing. "Rosemary believed in this tour before most of us had even heard of it," she said. "We are very, very grateful to you for supporting us and keeping the bank involved."
Rhinebeck Bank has been the presenting sponsor of the studio tour since 2008, and Hess said that this year 22 additional local sponsors have made the project possible, including The Gardens at Rhinebeck and Vicki L. Haak at Ameriprise Financial Services in Rhinebeck.
Bertelle noted, "Since the very beginning, I told the bank 'We have to do this!' We're strong advocates of the arts, since we feel it adds to economic strength and is important to the vitality of the community." The bank is hosting an exhibit highlighting each artist's work, which runs through the end of September in the Atrium Gallery.
Also attending was Linda Marston-Reid, executive director of Arts Mid-Hudson, formerly called the Dutchess County Arts Council. "You see the development and the creative explosion of talent here in our region when you see the artists' studios," she said. "To have that personal connection with an artist and talk to them about their work while you're standing in their space is an opportunity that is very special."
Painter Sally Lyon from Rhinebeck is a first-time participant who is looking forward to the event. "We had a small barn on our property, and we got it fixed up as my studio. It's a dream come true," she said. "All my work is framed and ready, now I just have to put out some goodies and make sure people can find the barn behind the blue spruce!"
Lucas Terranova, a painter, and his mother, Bianca Terranova, a jewelry designer, will be welcoming visitors to their Rhinebeck studio, as they did two years ago. "About 180 people came," he recalled. "It's great to have that many people come by and talk about the work, ask questions. You get feedback, as opposed to being cooped up in your studio, alone. It's invigorating. Part of expressing yourself visually is you want it to be seen."
Three married couples are participating together also on this year's tour, including Marilyn and Carl Grieco, two of the founders of the Artists' Collective of Hyde Park, which will be celebrating its second anniversary in September, one result of the collective's artists participating the previous ASV tours.
Perhaps artist Patti Gibbons, who opened her studio/gallery/classroom in Rhinebeck last January, summed up the tour experience best when she said, "You're seeing not just my studio… but what goes on inside my head."
7th Annual Art Studio Views Tour – Northern Dutchess County
Sat. and Sun., Aug. 30 & 31, 11am–5pm
Free
845.758.0335 www.artstudioviews.com artstudioviews2014@gmail.com
Facebook Comments