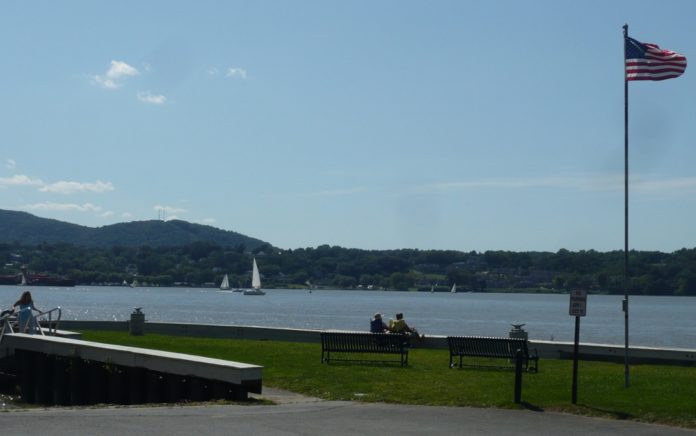 The variance that would have allowed Carolyn Marks Blackwood's home renovation, proposed for 64 Grinnell Street in Rhinecliff, was denied by the Rhinebeck Zoning Board of Appeals in a close 3-2 vote Aug. 20.
In their rejection of the area variance, the ZBA cited the zoning code for the Rhinecliff Overlay District, which describes the importance of scale in maintaining the hamlet's character.
Blackwood had planned to consolidate her three lots for a total of .88 acres, and renovate the existing historic home with additions that would have created a 4,096-square-foot house, which exceeds the 2,300-square-foot maximum allowed in Rhinecliff.
The hearing on the project brought strong criticism and praise from the neighbors.
One source of contention for nearby residents was a planned privacy hedge that would have partially obstructed Hudson River views. Planning Board chair Michael Trimble, who was interim Zoning Enforcement Officer at the time, suggested in a July 15 letter to the ZBA that "the views from Grinnell are among the most significant in Rhinecliff. If the objectives and standards of the Overlay District apply anywhere in Rhinecliff, they apply on Grinnell."
A letter from Hudson River Heritage on June 20 echoed some residents' concerns over "size, scale, massing and context" for the project, noting that the "structure…is well in excess of the standards established for the hamlet, and far beyond the size of the existing houses."
But other residents spoke in favor of the project at public hearings, praising Blackwood's plan to preserve an historic building and her proposed conservation easement to keep the 0.27 parcel at the northern section of the property as open space.
The ZBA's final vote mirrored the community's split opinions, with three votes for denial and two against.
Chair Michael West, who voted against the denial, spoke of the project's benefits, which in his view included restoration of the original, historic house, architecturally pleasing design, and the consolidation of lots that otherwise may be built upon in the future. "I thought by combining those three lots, we would keep the viewshed open in perpetuity," he stated.
The project is still under review by the planning board and is expected to be on the agenda for their Sept. 15 meeting. Without the variance, the plan cannot be approved as it currently stands, but the applicant could decide to amend the plans.
Facebook Comments