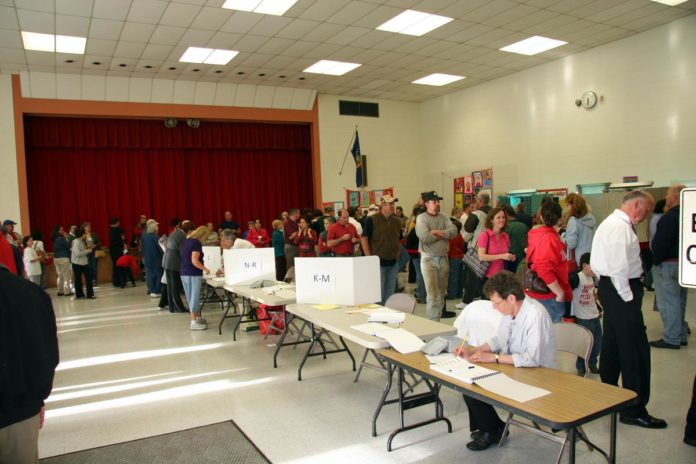 Cuts to personnel, $900K from the rainy day fund, $470K of jobs stimulus money and some health insurance savings were enough to achieve passage of the $45.5M school budget by a margin of 961-772 (55.4%).
"I would like to thank the community for its support of our school budget," stated Superintendent Paul Finch. "I think this budget vote, in particular, demonstrates this community's commitment to protecting what makes a Red Hook education special — our record of success on state assessments, our advanced course-offerings, and the variety of after-school opportunities for students. There is this growing sense that the Red Hook Central School District holds a special place in the region worth protecting."
During the presentations given by Mr. Finch and budget expert Bruce Martin they expressed concern that the upcoming tax cap could decimate public schools. "I also think that there has been an awakening among stakeholders that the cost drivers of the service we provide exist within a legislative structure that does not allow us to be as flexible as we might otherwise want to be…I'm talking about mandated retirement contributions, health insurance increases, and a collective bargaining system that tends to perpetuate the status quo. I think that lawmakers need to first take the log out of their own eye before they try to take the speck out of public education's eye."
Two new board members
In the election for two seats on the school board, Ryan McCann (1053 votes) and Dawn Morrison (1050 votes) were elected with Diana Brooks trailing behind with 895 votes.
All the current board members including outgoing Board President Sean McLaughlin, Kelly Mosher, Frank Knobloch and Johanna Moore were present when the results were announced as was board member Diana Brooks and candidate Dawn Morrison. Ryan McCann was not present.
"I'm pleased, I'd like to thank the people who voted for me and I'm happy to be getting to work," stated Mrs. Morrison who appeared second on the ballot below Ryan McCann and had a nearly identical vote total.
A disappointed Diana Brooks was nonetheless pleased by the budget outcome. "I'm very excited that the school district budget passed and excited for the students and the community for that and I wish Dawn Morrison the absolute best. I think she will do a fabulous job," she said.
"I'd like to thank Diana Brooks for her years of service and her commitment to the children of this district," stated fellow board member Johanna Moore who had served with Diana these past four years.
We were unable to reach Mr. McCann for comment Tuesday night.
A proposition for the purchase of new buses passed 545-401 with many people reporting not having seen it on the ballot. Fewer people cast a ballot for the bus proposition than voted yes on the budget.
Also approved was the proposition for the board to have a non-voting student representative which needs to be re-approved every two years by a 1080-695 margin.
With voting moved from the gym to the 3-5 cafeteria for security reasons, the smaller room went to capacity during rush hour with 40 or more people waiting in line at times. A number of voters chose not to cast a ballot when confronted with these lines. The old style lever machines only allowed two voters at a time to cast ballots. The school district elected to use the lever machines as it had in the past for both financial and logistical reasons.
Facebook Comments