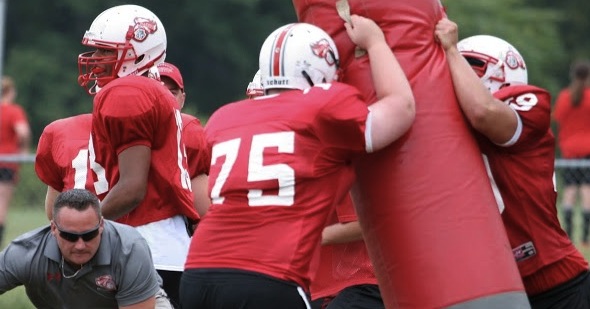 The past year was a solid one for the Red Hook varsity football squad. Under the coaching of John Kravic, the Raiders went 4-4 in the regular season before falling to Marlboro in the sectional semifinal.
This year, Kravic will not be returning for medical reasons, and 2012 head coach Bill Stutz is now back to tackle the team's challenges in the upcoming Section 9, Class B competitions.
"Coach John Kravic is a dear friend of mine," Stutz told the Observer. "I have coached Red Hook football with him since my arrival in Red Hook 13 years ago. He means a great deal to all of us in Red Hook. We are all wishing him the best as he goes through a hard time and miss him on the field."
Stutz's return for the 2014 season follows his suspension for the 2013 season because of his arrest on an assault charge involving his ex-girlfriend and her son. He pleaded guilty to a reduced charge, then was reinstated by the Red Hook School Board, with superintendent Paul Finch praising him for being "fully transparent" in the investigation.
Stutz said that he will focus his team on the matter at hand: putting together a competitive football program.
"Obviously, the road to here has been dramatic and bumpy. What is important now is we are all on the same page," he said. "This team works hard, they are close friends and they have been successful in the past. We do believe we will be ready to compete at a high level."
There's great personnel news for Stutz: while the team lost Ben Zitz, a New York Sportswriters Association Honorable Mention All-Stater, a nucleus of crucial players are returning, including offensive lynchpins like combo-backs Dustin Ducey and John Alessi, guard Stefan Chichkov, linebacker Tim Terry and, crucially, quarterback Nick Carlson.
Stutz is not yet ready to name his starters. But the Raiders utilize a running back-centric, pistol-spread offense, which Stutz said is "firing on all cylinders."
Neither the offense nor the defense will be undergoing any major facelifts — barring a few tweaks — and Stutz advised the fans not to look for any seismic changes in the status-quo, especially with so many acclimated returners.
"There have been no major changes to the offensive or defensive schemes from last year. (Assistant) Coach Quintin Johnson spearheaded the defense in my absence and did an outstanding job. New fronts and coverage's were installed in 2013 and we are staying with them this season as we move forward. The kids know them and are very comfortable with the defense," said Stutz.
While he did not comment on his personal affairs, Stutz was very positive about his return to the sidelines — and echoed the No. 1 exclamation of his friend, John Kravic.
"I know exactly how I will feel when I step on the field for the first time, the same as I feel every day of my life," Stutz said. "FANTASTIC."
Facebook Comments