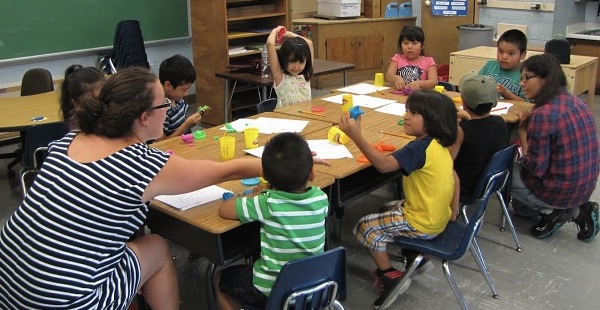 At a small table, eight kindergarten and pre-K students work play dough into shapes called out by their instructor. Nearby, sixth, seventh, and eighth graders craft stories using visual prompts cut from magazines.
It's all part of Young Rhinebeck's Life, Learning, and Language (LLL) program, which just wrapped up its month-long summer session at Chancellor Livingston Elementary School in Rhinebeck.
Young Rhinebeck is a grant-funded nonprofit educational organization dedicated to "fostering cultural competence and community" in Rhinebeck schools, according to President Ron Carlton.
LLL, which is Young Rhinebeck's largest program, is targeted at elementary school students who need help with language and other academic skills. This summer, 26 students participated in the three-hour per day, three-day per week learning sessions, led by professional teachers and mentor assistants. There is also an LLL program during the school year, run with the help of about 30 students from Bard College and Rhinebeck High School that meets twice a week after school.
While LLL was initially geared toward students for whom English is not the primary language spoken at home, it has grown to include any students recommended by their teachers for language enrichment.
Program coordinator Wendy Brisley, who is responsible for the curriculum, said about two-thirds of LLL students speak English as a second language. She has a master's degree in teaching arts with a focus on collaboration with school districts on ESL education. LLL instructors work closely with teachers to build on classroom work and to tailor their lessons to students' individual needs.
Brett King, principal of Chancellor Livingston Elementary, said he is grateful for LLL's contribution. "I'm supportive because they're supportive," he told the Observer.
"We keep building on it, and that's a sign of success," he added.
One new addition is the family advocate program, in which bilingual volunteers work with parents of students from kindergarten through 12th grade to support their interactions with school teachers and administrators. Brisley said about 13 families participate in the program, which also helps LLL track the progress of students after they have moved on to high school.
While LLL's focus is on education and confidence-building, Brisley noted there is time for fun, as well. Several students have enjoyed it so much that they have returned to serve as mentors.
According to Carlton, there is no stigma for students who participate in LLL. He said Chancellor Livingston students see it as a special opportunity, not a remedial program.
Selene Ortega, a parent with two students in LLL, told the Observer that her children enjoy the program, and she likes it too. Her nine-year-old son has participated for three years, and her seven-year-old daughter followed in his footsteps.
Besides LLL, Young Rhinebeck also hosts a Half Day / Whole World program for middle school students. On early dismissal days, students can elect to stay on campus and learn about the culture of people in other countries or regions. For one such event, Bard students from India and Nepal discussed the food and culture of their countries and gave an introductory lesson in Bollywood dancing.
"We're not a very diverse community in Rhinebeck, and that puts our kids at a disadvantage," said Carlton. By enriching their broader cultural education, Young Rhinebeck hopes to keep students fully engaged in the local community.
Principal King said he appreciates that contribution. "The more diversity we can expose our children to, you wind up with a much more well-rounded student, and a more well-rounded adult as they get older," he said.
Facebook Comments