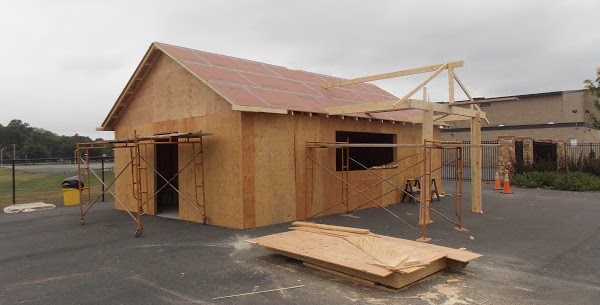 A culinary flavor is being added to the newly renovated sports complex at FDR High School, thanks to the voluntary services of school district staff members and the Keep Hyde Park on Track support group.
They are all hard at work on a concession stand that was rapidly taking shape at the north end of the soccer-football field as the new school year began.
The stand, designed to look like the former high school (now Haviland Middle School), will be offering fast foods, like hot dogs, along with soda, pretzels and potato chips for football games and special sports events, like track meets.
During the past few weeks, a group of nearly a dozen staff members, spurred on by Pat Moshier, a retired teacher and current trainer for athletic programs, along with Bobbi Goodman and Monica Relyea of Keep Hyde Park on Track, have been busy constructing the building. Those busy hammering and nailing include: Kevin Hart and Mike Bucci from the Physical Education Department; Doug Egerton and Brad Phillips, Technology Education teachers; assistant softball coach Pete Weglinski; and Bill Hoffman and Brian Halling, math teachers who also coach girls JV soccer and cross country, respectively.
Funding for the concession stand, estimated to be $25,000, was not part of the bonding that brought major upgrades to the athletic fields and surrounding "Oval Office," the new home of the Presidents. The project, instead, has received support from several community members and organizations.
Moshier told the Observer, "We were extremely pleased to bring the stand, modeled after the Haviland building, together with financial backing from a host of community agencies, highlighted by a major donation from John Golden of Golden & Golden Builders."
Along with Golden's contribution, the funding of building supplies was shared by Williams Lumber, Jim Waters Corporation, Home Depot, and McDonald's, who contributed the materials at low cost or as donations.
In addition, much of the kitchen equipment in the new stand, including sinks, a stove, and other appliances, was given to the school district by McDonald's when the Hyde Park branch began its renovation of its Route 9 building.
Although much of the cost has been covered by these initial contributions, Moshier indicated that additional funding is still necessary to complete the project. Anyone interested in donating can forward a check to Keep Hyde Park on Track through the Hyde Park Central School District. A plaque honoring all those who lent assistance will be posted in the completed stand.
Relyea has been actively involved in the Keep Hyde Park on Track program since the citizens' support organization was formed after the district vote on the new fields and athletic facility at FDR High.
"This is so exciting to see so many community agencies and staff members donating their time to help make this project so successful," she told the Observer.
Facebook Comments