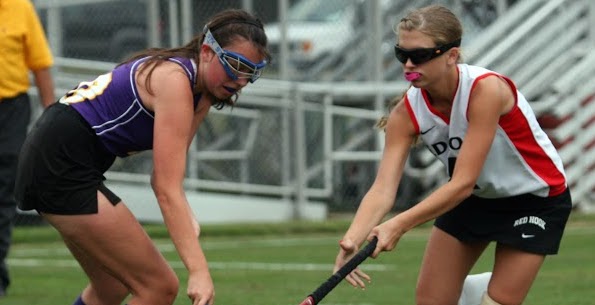 Red Hook's varsity field hockey squad already has enviable numbers as the season starts. They opened up 6-2 overall and are 4-1 in Mid-Hudson Athletic League play.
And those aren't the only numbers that they can boast: they sport 12 seniors on a 17-player roster.
The 2014 rebuild has been solid. Although the Lady Raiders lost five key players to graduation, including center Talia Stortini, who now plays field hockey at Skidmore, and midfielder Mackenzie Abella, coach Diane Zduniak said that her current players have moved up to fill open spots brilliantly.
"We've had a lot of talent for years now, and we've seen our seniors step up. We had a senior this year that tried out for the team, Katia Perez. And she's playing. Usually trying out as a senior is unlikely, but she really plays hard and puts in her all. She stepped up," Zduniak told the Observer. "We're strong in the backfield due to Alex Theisen, our goalie, and Jordan Ball has been with us a couple of years. Now she's our starting sweeper."
"This year, as we move further, we'll be even stronger," she added. "I think this team has the potential to go all the way this year. I mean, Roundout is going to be our obstacle, coming up in October, but we can't take any teams for granted. This year, we are going game by game, and tailoring our practice to fit every team we meet."
She noted, "I could see us going all the way. The talent pool is tremendous with the seniors and the depth that we have. These girls have been playing together since the 7th grade, most of them."
The Lady Raiders showed off their skills in their Sept. 20 homecoming matchup with Rhinebeck. It took almost no time for Red Hook to get on the board: Shannon Yearwood scored at 28:47, and was followed a minute and a half later by Kaleigh DelGiudice; Aleksia Cvijic, Emily Levine, and Jessica Osterhoudt all scored before Yearwood got the final bucket of the period at 10:00 to put the Raiders up 6-0.
With the clock running in the second half, three more Lady Raiders got on the board. Arianna Padilla Carreras scored at 24:00, Marist Parr scored at 17:35, and goalkeeper Theisen rotated into the offensive lineup to flush the final goal of the game. The Raiders sent Rhinebeck home with a 9-0 loss.
"We tapped into a lot of different options today, and a lot of different people stepped up to put the ball in the cage," Zduniak said after the game.
Rhinebeck, on the other hand, has opened up 0-4 after their loss to Red Hook. Then they fell to Ellenville, 5-0, on Sept. 18.
Head coach Mary Fleischhauer's Lady Hawks lost six seniors to graduation this year.
"We have been heavily loaded with division A and B teams in the beginning of the season. We have not won a contest yet, and our players are feeling defeated," she said. "I am hoping to turn it around with the second half of the season, when we are playing teams in our division."
Facebook Comments