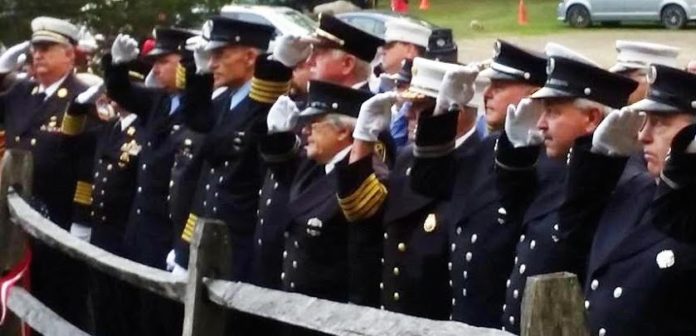 About 150 area residents marked the solemn anniversary of September 11 together this year, as they have for several years, at the Paul Tegtmeier Memorial in Hackett Hill Park.
A flag was held aloft above the memorial site by a vintage ladder truck now owned by the Fairview Fire Company as the ceremony opened with a color guard of local firefighters, the presenting of the colors and the National Anthem, sung by John Morabito.
Resident Bob Groeninger welcomed attendees, and remarks were delivered by Town Supervisor Aileen Rohr, Staatsburg Fire Commissioner Dewitt Sagendorph and Rev. Chuck Kramer of St. James' Episcopal Church, where the Tegtmeier family are parishioners. The ceremony included wreath laying at the various markers in the memorial site by Roosevelt Fire Department, the Hyde Park Chief of Police Eric Paolilli, Milan Fire Department, FDNY, and the Tegtmeier Memorial Committee. Music was provided by the Amerscot Highland Pipe Band of Staatsburg.
The event closed with the crowd singing "God Bless America."
The memorial was created in 2004 when resident Stephanie Parise and others approached the town board about creating a space to honor fallen New York City firefighter and Hyde Park native Paul Tegtmeier, who was a victim of 9/11. Craig Elderkin, who went to school with Tegtmeier and served with him for 20 years in the Roosevelt Fire Department, told the Observer the committee was able to raise $35,000 and build the memorial within six months, in time for the 2004 observance.
At the site, which is landscaped with native rocks and flowers, polished granite markers recognize Tegtmeier and "all those who lost their lives on September 11, 2001." Surrounding brick pavers are engraved with messages and names of supporters, families and community groups. Other markers recall fallen Hyde Park firefighters and police officers from 1978 to the present.
The memorial continues to be maintained by the 15-member all-volunteer Paul Tegtmeier committee. "It's grown ever since it began," Elderkin, a committee member, told the Observer. He said the flag is always flown at half mast whenever a state or local firefighter or police office is killed.
Parise, the committee president, said the event has become a truly community-centered one. "That's what makes it," she said. Local florists donate the wreaths for the memorial, which also recognizes local emergency personnel who have died in the line of duty. Many fire departments from the area attended, along with emergency personnel and veterans.
Parise also noted that the committee again held a food drive for veterans at Castle Point VA home as part of the event and collected enough to fill a large station wagon, with the help of Cub Scout Pack 153. This year's drive was dedicated to the Claudio Cares Foundation, which was created by the Coppola restaurant family to honor their son Claudio, who died in a car accident.
Facebook Comments