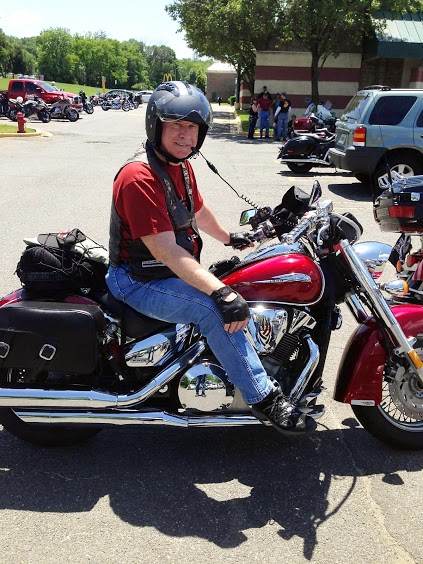 Hyde Park resident Wayne H. Gowen, 63, died Sept. 13 in a motorcycle-car collision on Cream Street.
According to police reports, the accident happened shortly before 1:37 pm at the intersection of Cream Street and Haviland Road. Gowen was driving a motorcycle northbound on Cream Street when he entered the southbound lane, the report said, and was struck by a car driven by Danielle T. Peters, 22, also of Hyde Park. Peters was transported to Westchester Regional Medical Center for evaluation; Gowen died at the scene, the report said.
Hyde Park Police and State Police are conducting a joint investigation, but preliminary findings indicate that slippery road conditions may have been a factor.
Gowen's widow, Danielle Gowen, told the Observer that her husband had three priorities in his life — family, motorcycling and work — and that he kept them all in balance in a way she admired.
One way he showed his love was through photography, she said, noting the dozens of family pictures in the living room and Gowen's study.
Alexis VanDeCarr, one of Gowen's two daughters, said those habits meant a lot to her. "Every holiday, every gathering, every moment he was documenting and kind of building this history of our family," she said. "He took the time to make it mean something."
Danielle Gowen said her husband had grown up around motorcycles and had always owned a bike, including a cherished 1988 Honda Goldwing with almost 200,000 miles on it that he used for long trips across all but two states. His family estimates he rode over 650,000 miles in his lifetime.
"He died doing what he loved," she said.
Gowen was born in Philadelphia, Oct. 21, 1950, according to his obituary. He had lived in Hyde Park for the last 14 years. He worked for IBM until 1993, and was a senior business analyst at the New York Power Authority at the time of his death.
Gowen was also a U.S. Army veteran and his family said veterans' causes were near to his heart.
In addition to his wife and daughter, Gowen is survived by a son, Joshua Horovitz, and his wife, Nanci, and their children, Jacob, Jonathan and Jackson; another daughter, Briana Gowen, of Saugerties; and Alexis VanDeCarr and her husband Greg of Wappingers Falls; stepsons, Daniel Gumaer of Pleasant Valley, Scott Gumaer and his wife Fallin of Poughkeepsie, as well as Scott's children Mason, Angelese and Amaiya Gumaer, and Jason Gumaer of Hyde Park. Gowen is also survived by his sister, Marie Dress, and brothers, George, Michael, Jerry and Greg Gowen and their families.
A memorial cross has been placed at the accident site by his family. A mass of Christian burial was celebrated Sat., Sept. 20 at Holy Trinity Church in Poughkeepsie where he and his wife were parishioners and he was buried that day in St. Peter's Cemetery in Poughkeepsie.
This story has been updated to correct the description of the accident in the police report.
Facebook Comments