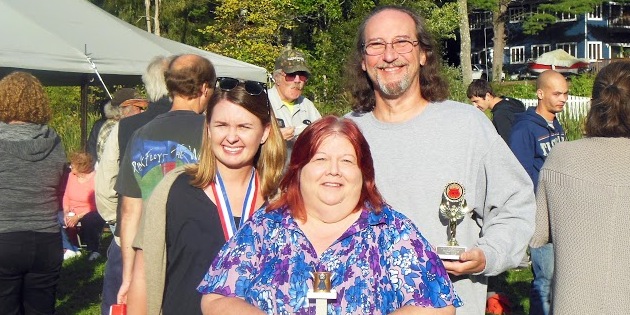 The six entrees in the sixth annual chili cook-off at Rhinecliff's Firemen's Field were so enticing that the judges had to spend 20 minutes deliberating, according to all accounts.
But in the end, first place and a $100 prize were awarded to Bernadette Dunne of Red Hook for her Chili Chicken and Black Bean entry. Second place went to Allyson and John Traver of Tivoli and their Buffalo Chicken Chili. And the crowd awarded People's Choice to Joe Baer of Rhinecliff for his Special Taco Chicken Chili, according to a firehouse news release.
The other entrants were Paul Butler of Rhinecliff, who won first place last year and the year before; Jean Jaeger of Tivoli, and Bea Peluso of Rhinebeck. The judges were Rhinebeck Town Supervisor Elizabeth Spinzia, Rhinecliff entrepeneur Richard Kopyscianski, and Rhinecliff Ladies Auxiliary member Brenda Bassett.
The cook-off highlighted the Rhinecliff Volunteer Fire Co. & Rescue Squad's annual Field Day, which was moved at the last minute to Sunday, Sept. 14 for better-weather reasons.
And the weather was perfect for an early fall outing, which helped to bring out a healthy crowd, organizers said in the news release.
Said Cynthia Baer, chairperson of the event, "After six years, this event pretty much takes care of itself. It is very satisfying to see more people coming each year and taking some time to hang out as a community. Everyone leaves saying that they had a good time and wanting to do it again. Many thanks to all the contestants. They are the people who really deserve the credit for making the whole day exciting and full of anticipation, not to mention delicious!"
Rhinecliff's next fun event will be its annual Halloween Party on Friday, Oct. 24 from 6-8pm at the firehouse, corner of Shatzell and Orchard. For more information, call Cynthia Baer at 845-876-5738.
Facebook Comments