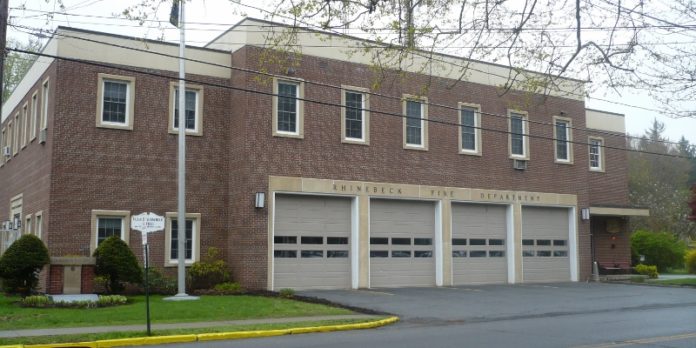 The question of allowing hens within Rhinebeck village borders drew a handful of residents to a special session at the Sept. 9 village board meeting.
The unofficial forum was scheduled at the request of resident Victoria Polidoro, who approached the board in May with a proposal to allow residents to keep a maximum of five hens on properties that have at least one-quarter acre. Village law currently allows for certain livestock — cows, horses, goats, and pigs, but no chickens — on lots of two acres or more.
Polidoro, who owns a 0.42-acre property on Arnett Road, told the board that allowing residents to keep hens would bring many benefits to the community, including organic pest control, a healthier source for food, and an enriching family activity.
She proposed an ordinance that would require hens to be kept in an enclosed shelter with at least a 15-foot setback from neighboring properties. Roosters would be prohibited because of their more aggressive behavior and loud crowing.
About a dozen people turned up at the meeting and seven spoke. Those opposed to expanding the livestock law raised concerns about smells, noise, and the potential for domestic fowl to attract wild predators to the village.
"Now there's a problem with deer in the village," said John Varricchio of Violet Place. "If you start bringing coyote and fox into the village and other rodents… how are you going to get rid of them?" He called for the board to conduct a full impact study, which he noted would be expensive.
Donna Warner, of Beech Street, who had conducted Internet-based research on chicken keeping, stressed the need for a "huge educational process" for anyone involved.
"In the interest of the chickens, the chicken owners, the neighbors, and town officials… Rhinebeck village is not a good place for hens," she said.
Both Warner and Varricchio live on lots smaller than the minimum under the law proposed by Polidoro. Those who spoke in favor of hen keeping tended to live on larger properties, and appeared to have direct experience raising chickens.
Barbara Kraft, of Corsmour Road, who said she had raised chickens when she was growing up, approved of the idea. "Try it for two years," she suggested to the board, advising a "stringent" set of guidelines.
Polidoro also presented four emails and a petition from several neighbors in support of the proposal.
Polidoro told the Observer after the meeting, "We had already contemplated the issues raised at the [meeting] and our proposal addresses many of the concerns… We hope that the village board will continue to consider our request."
Trustee Scott Cruikshank, who is participating in a review of pending changes to the village's planning and zoning code, noted at the close of the meeting that the proposal would be considered as part of that review.
Any code changes would require a formal public hearing.
Facebook Comments