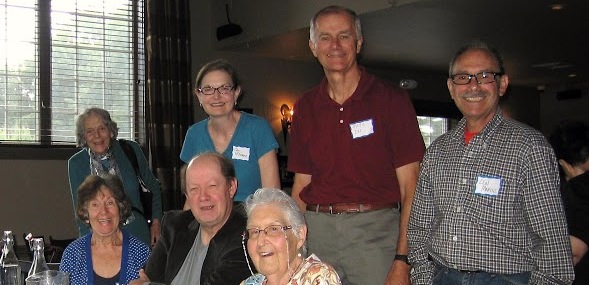 In 2010, the founders of the nonprofit organization Hudson Valley Home Matters chose the name wisely. As they contribute to the rapidly growing "aging in place" movement in this country — and around the world — their focus is always on senior citizens being able to stay in their own homes.
Barbara Corona, a member of the HVHM advisory board, explained that the organization is open to residents 50 years and older in Hyde Park, Poughkeepsie, LaGrange, Pleasant Valley, and Wappingers Falls and offers services that include transportation and referral to home repair contractors and health agencies. "Our members request the volunteers to do a whole host of things: roofs raked of snow, a hat stretcher. We say: Challenge us with what it is you need," she said. "Then our coordinator is challenged to come up with the appropriate volunteer. The heart of it is people in the community helping other people in the community. The other challenge is putting the information out to seniors and raising enough money for those who cannot afford even the most basic services. Volunteers are the heart of this organization."
John Scileppi is also a board member and training to become a volunteer. "This is a community, not a business," he said. "As a result, we encourage people to be members and volunteers. Hudson Valley Home Matters is good both for the individual and for the community. It's good for the individual in that it really enhances the quality of life by enabling people to stay in their homes. Our homes matter to us. What will it take to maintain your quality of life in your current home at a reasonable cost?"
Yearly HVHM membership for an individual is $500, and for a household is $700. According to Scileppi, there are approximately 50 individual memberships and 60 household memberships.
John added, "People will be more inclined to call if the service is accessible and friendly, and many of the members find that they have skills that they can share. Some people will maintain, 'I'm not ready for this,' but perhaps they could consider this as another kind of insurance. You may not need it right away, but when you do, you want to make sure it's going to be there. We need to make sure we have a good number of members, and so by joining, you are helping to maintain this important resource in the community."
Betty Perreault has been an HVHM member for almost four years. "They built my ego," she said of her experience with volunteers. "I'm legally blind, and they've been a godsend. We've done a lot of things together; they're very nice. I had someone help me get the clutter out of my house, and she's still coming because we got to be such good friends."
HVHM president Karl DeKeukelaere started by volunteering a little over four years ago. "I did some driving, home visits, helping with computers. I enjoy meeting them all," he said. "There are some fascinating backgrounds that some of these people have. I drove one of our members who mentioned he was in the Navy in WWII, and then he told me he had watched the raising of the flag on Iwo Jima. Our conversations always make the visits interesting. We're always trying to think of ideas in our board meetings for social events that will get our members out of the house."
He added, "We want to make contact with local organizations, churches, to let all their members know that our services are available if needed."
At the organization's monthly luncheon, held Sept. 17 at the Hyde Park Brewery, the guest speaker, Dr. Shirley Johnson-Lans, an economics professor at Vassar College, talked to the 20 attendees about navigating the Medicare system.
Christine McNamara, the HVHM Member Services Coordinator, is referred to by more than one member as the heartbeat of the organization. "Sometimes people are not yet ready to be members but they might be willing to be volunteers," she said. "We have an outreach team to call on members once a month to see how they're doing."
She added, "I'm in my fourth year as a part-time paid employee, but I started as a volunteer."
The organization will have a table at the Hyde Park Fall Fest in Hackett Hill Park this Saturday, Sept. 27, for those who want more information.
Hudson Valley Home Matters
P.O. Box 2734, Poughkeepsie 12603-2734
845-452-4846 info@hvhomematters.org www.hvhomematters.org
Facebook Comments