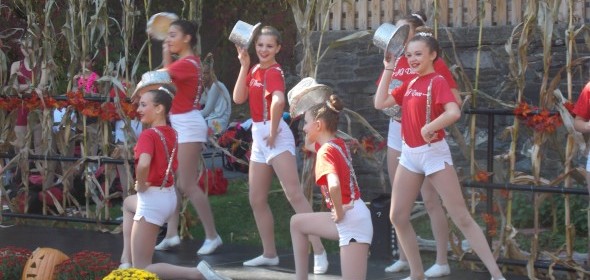 The falling leaves were a fitting marker for Hyde Park's annual Fall Fest Sept. 27 at Hackett Hill Park.
A variety of events featuring dance teams, martial arts, craft displays, pony rides and barbeque specialties filled the festive day.
Recreational Leader Diane Cullen got things off to a fast-paced start on the stage by welcoming the JG Dance team on stage at 1 pm. The youthful troupe delighted the crowd of over 200 with selections from Broadway shows and were followed by four other special programs, including performances by Dance Works Too, a demonstration by LeClercs Martial Arts, Jackie the Magician, followed by a cake eating contest.
While the stage was kept busy, the park was buzzing with activity ranging from an art show and health fair to tethered balloon rides, a scavenger hunt, pony rides, an obstacle course and a World War II display by the American Veterans Historical Museum. Vendors and community organizations filled the pavilion area, giving spectators an opportunity to learn more about available services in town, church groups and health resources.
Local firemen and police were also on hand, displaying equipment and expanding awareness for their community resources.
One of the highlights of the day was the town Recreation Department's unveiling of its new disc golf course. Supervisor Aileen Rohr, along with Councilman Ken Schneider and Recreation Director Kathleen Davis, opened the course with a ribbon-cutting ceremony. They were joined by Cullen, and Schneider's wife, Cynthia, and his son, Jeff.
Schneider's son was the one who originally proposed the disc golf course, which has a nine "hole" layout similar to golf. "Holes" consist of a metal pole that holds a basket made of chains and participants try to get their discs, which are similar to Frisbees, into the "holes" with as few throws as possible, similar to golf.
Par for the course, which runs throughout the park grounds, is 28 for nine holes, with the longest hole, a par four, listed at 489 feet, and the shortest par three at 189 feet.
"Discs are available at the recreation office," said Cullen, "or people can bring their own to play anytime for free when the park grounds are open from dawn to dusk."
Facebook Comments