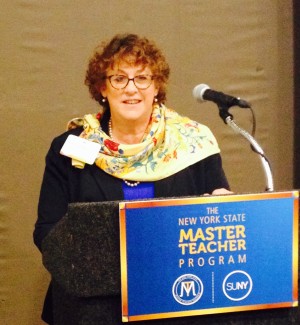 A life sciences teacher at Haviland Middle School, who was named one of the first Master Teachers in the state, was also named one of four finalists for the 2015 New York State Teacher of the Year.
Deborah Kravchuk, who is currently completing her doctorate in teaching and curriculum from Northcentral University, has been working in the Hyde Park School District for the last nine years teaching biology, earth science, paleontology, and Orton-Gillingham reading and writing instruction. She also teaches reading for the Elementary Summer Bridge Program, is a STEM instructor with Camp Invention, and is collaborating with Bard College to provide STEM-based problem-solving learning activities for middle school students incorporating life science and algebra curricula.
In addition to being named to the inaugural class of Master Teachers, she was the recipient of the 2009 Science Teachers Association of New York (STANYS-SE) Earth Science Teacher of the Year, according to a news release from the state Education Department.
The 2014 teacher of the year was Charles Giglio, of Gloversville.
Facebook Comments