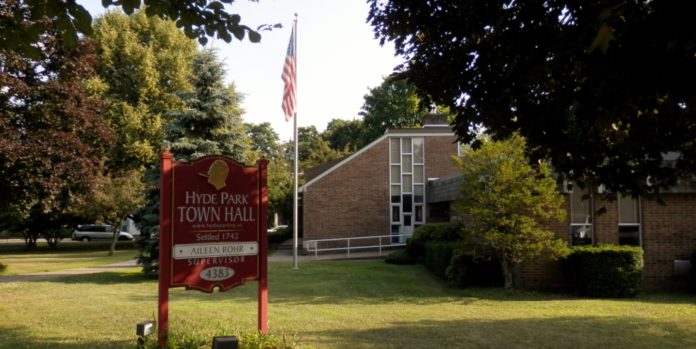 Hyde Park's tentative "first draft" 2015 budget was released Sept. 30 showing a possible 5 percent increase in taxes.
Spending for next year is estimated at an even $9 million: $6 million in the general fund, a 3 percent increase; and $3 million in the highway fund, a .34 percent decrease. Property taxes of $6,043,835 will be needed to meet these costs, besides other revenues estimated at $2,830,361. The remaining $125,804 will come from the town's fund balance.
Those numbers translate into a $278,300 increase in property taxes over this year, with the tax per thousand for 2015 at $6.52, a 31 cent increase over this year's $6.21, according to the budget documents.
Town Supervisor Aileen Rohr estimated that would mean an increase of $38 for a home valued at $124,000.
In a year where the state has touted its new "tax freeze" plan, which would give tax rebate checks to households within municipalities and school districts that stay under the state-mandated tax cap, Hyde Park officials appear to be pessimistic that the town budget could stay within the state-mandated cap of 1.44 percent without a drastic cut to services.
Rohr pointed to increasing energy and health insurance costs and decreases in sales tax and mortgage tax revenue as major challenges for the budget process this year.
"All these factors contribute to a 5 percent increase in the tax levy in the tentative budget," she told the Observer. "The Town Board will be holding multiple workshops with department heads, which will be open to the public and will provide the detailed information on the costs that drive the budget."
The town board will now spend the next two months scrutinizing the plan and revising it in a series of public budget workshops planned for Oct. 14, 20 and 27 at 7pm in town hall. A public hearing will be held in early November and the budget must be approved by Nov. 20.
Town Comptroller Tom Carey prepared the town board for the proposed tax increase at their Sept. 22 meeting. "… I will let you know because you've had the [tax] cap for two years and you just can't continue because union contracts have gone up 2 to 3 percent, and with that you've got your increase in benefits and it is impossible unless you reduce your staff, and no town is going to reduce staff because then you're jeopardizing services," he said.
At that meeting, the board focused on several financial housekeeping decisions. First, the board unanimously passed a resolution allowing the police department to purchase a vehicle from the Village of Fishkill, for $5,000, increasing the current fleet to 10 vehicles. The car has 30-40,000 miles on it, according to Carey, and the purchase was anticipated in this year's budget.
Then officials received some good news: salt spreaders to be purchased through a county shared services grant—bought in partnership with the Town of Poughkeepsie—will cost $30,000 less than anticipated. Rohr told the board that the grant is in its final stages of approval and reported that after Poughkeepsie put the salt spreaders out to bid, they found that the price was much lower than expected: $4,000 per spreader instead of $7,000, meaning a total savings of $30,000 on the 10 Hyde Park will use.
But Hyde Park still hopes to be able to use that money for a related purpose, Rohr said. "There's a pool of money that was part of the original award of $30,000 that was Hyde Park's portion that we're trying to come up with an adjunct application for," she said. The town will likely ask the county if it can use the excess funds to purchase a skid steer to help clear sidewalks and parking lots of snow and ice.
Rohr said the 10 additional salt spreaders and the possibility of another new piece of equipment would prove cost effective if they eliminate the need to hire outside contractors for snow and ice removal this winter and in the future.
Then Carey asked the board to approve some modifications to this year's highway department budget. He explained that $35,000 from the snow reserve fund was needed to help pay for general repairs which all together total $36,000.
Carey said that both he and Superintendent of Highways Walt Doyle believe the remaining funds should last through December 31 as long as no "extreme weather" or storms occur before then. The total snow reserve fund, before the change, was $100,000.
The board approved these changes and also voted to enable Carey and Rohr to work on a long-range plan for the town's infrastructure needs, with a major focus on how to obtain grant funding for capital improvements.
Facebook Comments