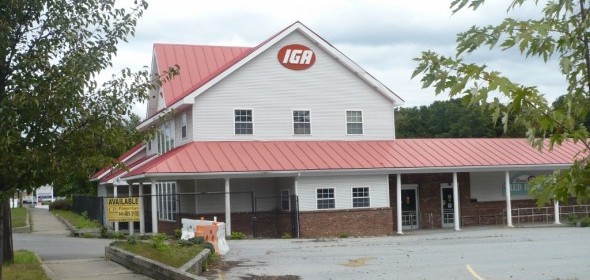 CVS will return to the Red Hook Village Planning Board October 9 at 7pm with new plans for renovating the old IGA site for a new CVS store.
According to the village planning office, the new plans have been submitted and are "hopefully responsive to the board's comments about the previous plan." However, officials said public review of the documents would have to wait until the meeting.
At the June 10 planning board meeting, the last one attended by CVS, the majority of the board appeared unhappy with CVS's plan for the new store at 7568 North Broadway.
Chairman Mark Mirando brought up two main issues: he felt that the store's main entrance should be facing the pedestrian park along Route 9 instead of on the south side of the store and that traffic patterns should be improved for cars and trucks, especially the planned drive-thru exit onto Route 9, which he said was too narrow. Board member Beth Pagano agreed, saying she thought it was a dangerous exit.
A second store entrance was suggested: one facing Route 9 and the other on the south side.
At the June 10 meeting, when CVS representatives Anthony Morando and Engineer Shannon Rutherford appeared reluctant to make these changes Pagano expressed concern that the company was being disrespectful to the "needs, wishes and values of the village."
Facebook Comments