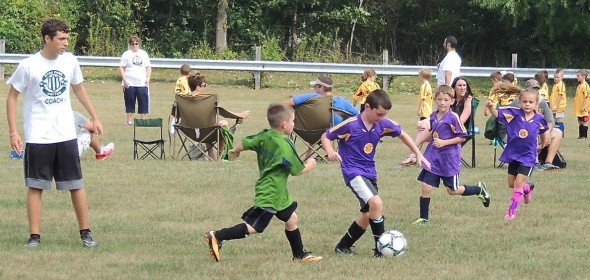 The Hyde Park Soccer League, "Hyde Park United," will celebrate its 40th anniversary this year, with over 600 players from age 3 to 18 in its ever-growing community.
"The league continues to grow and the registration numbers are at an all time high," league president Jeff Biamonte told the Observer, noting an increase of 35 percent in enrollment in the last five years. He recognized in particular the support of the school district and the town recreation department and also the generosity of many local businesses who sponsor teams.
"Our beautiful fields at the Creek Road complex are a bevy of activity each weekend in the fall and the spring," he added. "There is a great community feel as over 30 teams participate in recreation games each Saturday. The players are proudly sporting their colorful jerseys with the name of their local sponsors on the back. Parents, grandparents and friends line the sidelines supporting the young players as they celebrate each success on the field."
According to Biamonte, there are 60 adults who volunteer their time as coaches and help run the league, including those who serve as the board of directors.
New this year is a pre-K skills clinic to introduce players as young as 3 to the sport.
"These young players receive their first ball and soccer jersey while participating in fun developmental activities to become familiar with the sport," Biamonte said, adding that he believes soccer is great for young kids because it offers an opportunity to develop skills, be a part of a team and learn the value of sportsmanship.
The four- and five-year-old "peewee" division focuses on further skill development with a weekly "micro" soccer game of 4-on-4 players, which helps focus on sportsmanship and team playing.
As the players get older, the league helps them focus further on skill development, an appreciation for the rules of the game, and playing on a larger field with more players. By middle school, they play the traditional 11-on-11 format and follow international soccer rules on a full-size field.
"In 2013, we introduced a high level of recreation soccer that includes inter-town play with our neighbors in Pleasant Valley, Wappingers Falls, Fishkill and LaGrange. Our league also hosts an over-30 and over-40 team, so we truly provide an opportunity for children of all ages," Biamonte said.
The league's travel soccer program offers players a chance for more competitive play. Games are played against other teams within an hour of Hyde Park and players must try out for the team.
"These teams have achieved great success in local tournament play, and Hyde Park has claimed many championships throughout the years. Our travel teams range from U-9 through high school and serve as a feeder program to the FDR school teams," Biamonte said.
A major achievement was the start-up of girls travel soccer teams, which began in 2012 with summer clinics.
At a recent U-11 girls game against New Paltz, league officer Deanna Rasco told the Observer, "Jeff has put significant focus on developing the program for girls and now has two teams, U-10 Lightning and U-11 Thunder, making their presence felt in travel team circles."
George Desmond, the father of player Allie Desmond, had nothing but praise for the work Biamonte has done to advance girls soccer.
"He answered a need to get a program up and running for the girls," said Desmond, "and they love playing for him, as he makes them all feel they are important to the team's success."
To learn more, visit the league's website at www.hydeparkunited.com.
Facebook Comments