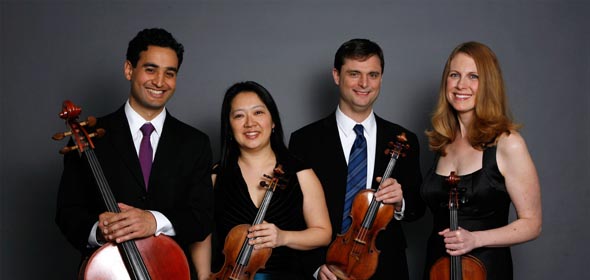 ANNANDALE-ON-HUDSON, N.Y.—The Hudson Valley Chamber Music Circle (HVCMC) series at Bard College presents three concerts in June by world-renowned musicians. The Saturday evening concerts, presented by The Bard Center, begin at 8:00 p.m. in Olin Hall. A subscription to the three-concert series is $60 ($50 for senior citizens). Individual tickets are $28; for senior citizens, $20; for students, $5. For ticket information, call 845-339-7907 or e-mail hvcmc.bardcenter@gmail.com.
Saturday, June 4
Hudson Valley Chamber Music Circle: Concert 1
Daedalus Quartet: Min-Young Kim, violin; Raman Ramakrishnan, cello; Jessica Thompson, viola; and Ara Gregorian, violin. Mozart's String Quartet in F Major, K. 590; Lerdahl's Third String Quartet; Schumann's String Quartet in A Minor, Op. 41, No. 1.
Saturday, June 18
Hudson Valley Chamber Music Circle: Concert 2
Carmit Zori, violin; Beth Guterman, viola; Sophie Shao, cello; Reiko Uchida, piano. Beethoven's String Trio in G Major; Wilson's Motivations for Cello and Piano and Music for Violin and Cello; Brahms's Piano Quartet in G Minor, Op. 25, No. 1.
Saturday, June 25
Hudson Valley Chamber Music Circle: Concert 3
Johannes Quartet: Soovin Kim, violin; Jessica Lee, violin; C.J. Chang, viola; and Peter Stumpf, cello. Mozart's String Quartet in D Major, K. 499, "Hoffmeister"; Respighi's String Quartet in D Major; Dvorak's String Quartet in E-flat Major, Op. 51.
The Hudson Valley Chamber Music Circle was founded by Helen Huntington Hull and two friends from Staatsburg, New York. They enlisted the help of violinist Emil Hauser, then a member of the Bard College faculty and original first violinist of the Budapest Quartet, to invite musicians to perform at the Mills and Vanderbilt Mansions. In 1979, the concert series began its association with Bard College. Margaret Creal Shafer presided over the June concert series for more than 30 years, until her last season in 2000, when Sharon Robinson and Jaime Laredo assumed artistic directorship. The HVCMC remains a venue that attracts many of the world's preeminent chamber music artists.
These performances are made possible, in part, through the generosity of the Homeland Foundation, the Leon Levy Endowment at Bard College, the Helen Huntington Hall Foundation, the J. M. Kaplan Fund, and the David G. Whitcomb Foundation. For further information, call 845-339-7907, e-mail hvcmc.bardcenter@gmail.com, or go to www.hvcmc.org.
About the Performers:
Saturday, June 4: Concert 1
Praised by The New Yorker as "a fresh and vital young participant in what is a golden age of American string quartets," the Daedalus Quartet has established itself as a leader among the new generation of string ensembles. Among the highlights of the Daedalus Quartet's 2010-2011 season are performances at the Bravo! Vail Festival, the Bard Music Festival, the Mt. Desert Chamber Music Festival, the Chamber Music Society of Lincoln Center, The Philadelphia Chamber Music Society; Great Performers at Lincoln Center, the Miller Theatre at Columbia University, the University of Pennsylvania, the Yale Center for British Art, Cornell University, the Tilles Center for the Performing Arts, the Asheville Chamber Music Society, the Mobile Chamber Music Society, and the Islip Arts Council.
Saturday, June 18: Concert 2
Carmit Zori is a Brooklyn-based Israeli violinist who has won many competition prizes. She has played extensively at the Chamber Music Society of Lincoln Center as well as at Bargemusic, where she used to serve as an artistic director. Zori is currently the artistic director of the Brooklyn Chamber Music Society.
A native of Belmont, Massachusetts, Beth Guterman has performed across North America, Europe, and Asia. In past seasons, Guterman has appeared at Zankel Hall, Alice Tully Hall, Merkin Concert Hall, Jordan Hall, and Aspen's Harris Hall and Benedict Music Tent. As a member of the International Sejong Soloists, she has toured extensively in the United States and Asia.
At the age of nineteen, cellist Sophie Shao received the prestigious Avery Fisher Career Grant, and has since performed throughout the United States, Europe, Taiwan and Japan. Shao was the winner of a top prize at the 2001 Rostropovich Competition and a laureate of the XII Tchaikovsky Competition in 2002. Shao is currently on the faculty of Vassar College and The Bard College Conservatory of Music.
Pianist Reiko Uchida has appeared as soloist with numerous orchestras and has performed solo and chamber music concerts throughout the world. Her festival appearances include Santa Fe, Tanglewood, and Marlboro. She is currently a member of the Laurel Trio with violinist Sunghae Anna Lim and cellist Amy Levine, and a member of the Moebius Ensemble.
Saturday, June 25: Concert 3
The Johannes String Quartet brings together the first American to win the Paganini Violin Competition in 24 years, Soovin Kim; a Concert Artists Guild Competition winner, Jessica Lee; the Principal violist of the Philadelphia Orchestra, C.J. Chang; and the Principal cellist of the Los Angeles Philharmonic, Peter Stumpf. Their collaboration was forged at the Marlboro Music Festival in Vermont, and shaped and mentored by the Guarneri String Quartet whose style was influenced by the Budapest String Quartet decades before. They are continuing the legacy of excellence. In addition to its recent broadcasts on Performance Today and St. Paul Sunday and a triumphant Carnegie Hall debut, the Johannes has had great successes with audiences and critics alike in Chicago, Philadelphia and Washington DC, among other locales.
Facebook Comments