Last year, Rhinebeck Village offered outdoor dining opportunities to local restaurants in response to the COVID-19 pandemic. Now, with spring around the corner, village representatives are meeting to discuss outdoor dining options once again, safety, and how implementing these changes will impact the community.
"We did our best to create as much outdoor dining space as safely as possible," said Trustee Lydia Slaby, adding that last year, the village worked with the Department of Transportation to create a "safe way to use some parallel parking areas" along route 308 for dining. "Dutchess County helped us set up the barriers."
Now, a task force has been created with members of the restaurant and retail community, residents, and the Planning Board to ensure that the needs of the community are met. The task force has held its first meeting, and Slaby said that during the Village Board meeting on March 9, a resolution on the matter is on the agenda.
"At the same time, we are coordinating with the fire and police departments, the DOT, and Dutchess County to ensure appropriate safety protocols for any plan that results. We anticipate the plan to be similar to what we had in 2020 of using existing parking areas for outdoor tables," Slaby said.
Overall, Slaby said the hope is to have barriers up for outdoor dining in early April.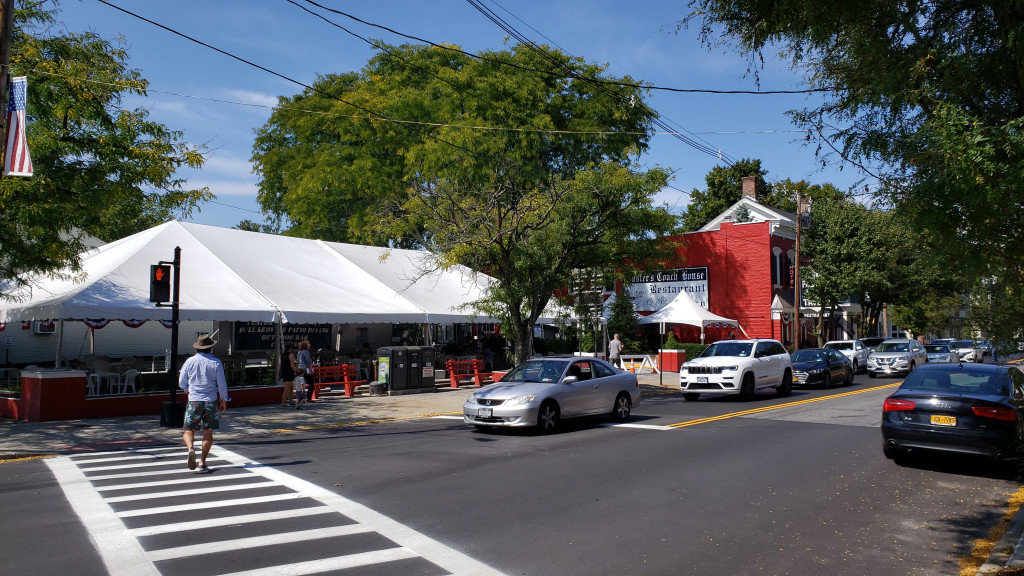 "In these moments, it is our job to help our local businesses continue to bring not only work and revenue to the village but also joy and opportunity for the community," Slaby said. "We need both, and outdoor dining is a wonderful way to safely provide it."
"Last year, many of our businesses have greatly benefited from the Emergency program which allowed our village streets and sidewalks to be used for dining and shopping," added Mayor Gary Bassett.
The plans required close work with local businesses, the Department of Transportation, and police and fire services, said Bassett.
"We launched a very successful, safe outdoor dining/retail expansion allowing additional capacity for outside seating at restaurants and increased space for shops for residents and visitors," he said. "With capacity limits and restrictions still in place, it will allow many to stay in business through the pandemic and through this year."
Facebook Comments