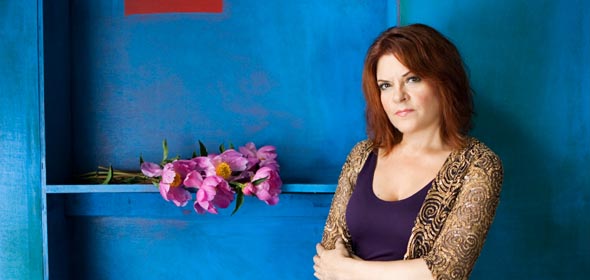 The Red Hook Education Foundation presents Grammy award-winning singer/songwriter Rosanne Cash in concert at the Bard Spiegeltent on Thursday, June 30th at 7 p.m. All proceeds will benefit the Red Hook Education Foundation, a non-profit community organization dedicated to supporting Red Hook public schools. The Spiegeltent—an antique pavilion decorated with mirrors, velvet canopies, and stained glass—is located across the lawn from The Richard B. Fisher Center for the Performing Arts at Bard College. The evening includes a reception at 7 p.m. followed by the performance at 8 p.m. Tickets are $125, and are available for purchase at www.redhookeducationfoundation.org. For more information about "An Evening with Rosanne Cash," send an e-mail to events@redhookeducationfoundation.org.
.All proceeds from ticket sales will go to the Red Hook Education Foundation. Working with private donors, local businesses, private foundations, and corporations, the education foundation provides additional funding for equipment, programs, and projects in Red Hook public schools. Members of the foundation are currently researching and writing grant applications seeking funding for new equipment for high school science labs, as well as for the Garden Classroom at the elementary school. The foundation is also supporting a debate program, is building an endowment for the Martha Strever Scholarship for Achievement in Mathematics (awarded to a graduating Red Hook senior), and recently helped to launch a Careers and Colleges Fair.
For more information, visit www.redhookeducationfoundation.org.
About Rosanne Cash
The eldest child of Johnny Cash and his first wife, Vivian Liberto, Rosanne Cash was born in Memphis, Tennessee on May 24, 1955. After her parents separated she and her three sisters grew up in California. At 18 she joined The Johnny Cash Show, further absorbing his influence along with that of his legendary touring show partners Carl Perkins and the Carter Family. The Carter Family's June Carter later became Rosanne's stepmother when she married Cash in 1968. Rosanne went on to study drama at Nashville's Vanderbilt University and at the Lee Strasberg Institute in Los Angeles before focusing on her music. In the 30 years since she has released 12 albums including Right or Wrong, Seven Year Ache, Somewhere in the Stars, Rhythm and Romance, King's Record Shop, Interiors, The Wheel, 10 Song Demo, Rules of Travel, Black Cadillac, and most recently, The List. She has also recorded 11 No. 1 singles, blurring the genres of country, rock, roots and pop. In 1985 she won the Grammy Award for Best Country Vocal Performance, Female, for her hit "I Don't Know Why You Don't Want Me," and has received nine other nominations. Her highly personal yet universally appealing writing style is also manifest in her parallel prose career. Rosanne published a collection of short stories, Bodies of Water, in 1995, and a children's book, Penelope Jane: A Fairy's Tale, in 2000. Composed, her long-awaited memoir, was published in 2010. Additionally, her essays and fiction have appeared in various collections and publications, including The New York Times, Rolling Stone, Time Magazine, The Oxford American and New York Magazine. The mother of five children, Rosanne lives in New York City with her husband, producer and guitarist John Leventhal, and her youngest child.
The Red Hook Education Foundation (RHEF) is an independent, not-for-profit community organization dedicated to supporting Red Hook public schools by providing funds for programs and facilities beyond what the school budget allows, and by facilitating stronger ties between the Red Hook Central School District and the resources and institutions in the community. The RHEF is a fund of the Community Foundations of the Hudson Valley. For more information, visit the website at www.redhookeducationfoundation.org
Facebook Comments