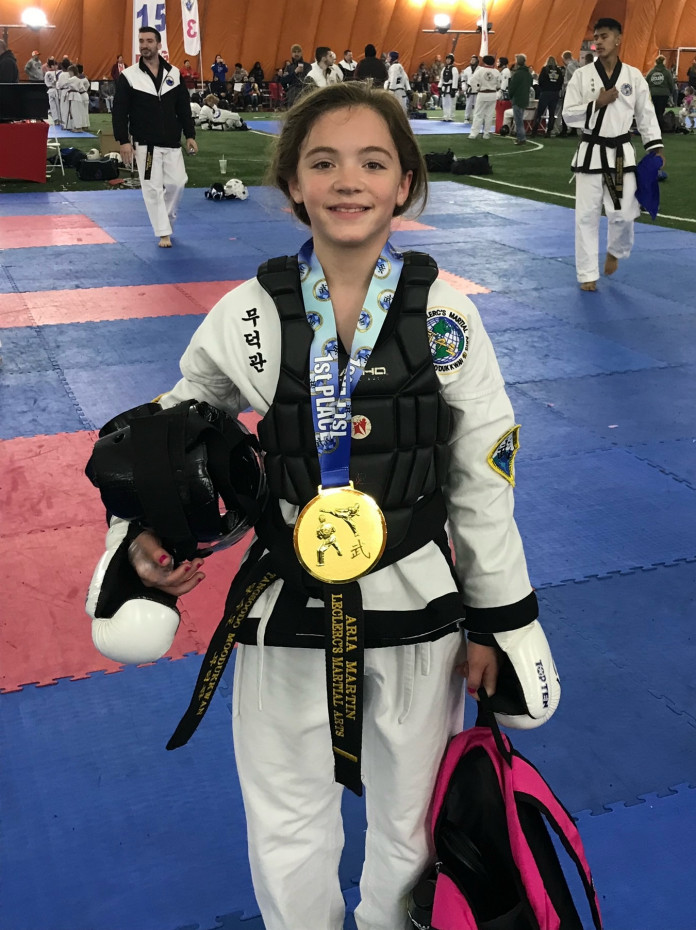 While the world's gaze is turned to the Winter Olympics in Beijing and the international medal count, one girl is quietly but assuredly racking up an impressive medal count of her own right here in Poughkeepsie. Aria Martin, a 10-year-old student at Krieger Elementary school, has achieved what few people will in their lifetimes. She has earned her black belt in karate and has racked up 81 wins and 51 gold medals in six years of training and competing across the national stage.
Achieving this level of success at a young age has required remarkable dedication. Aria trains seven days a week for a total of about 30 hours at Leclerc's Martial Arts in Hyde Park. She has traveled to compete in tournaments in New York, Florida, Illinois, Connecticut, New Jersey, and Pennsylvania and this year has plans to participate in 18 tournaments through the North American Sport Karate Association (NASKA).
When asked the most challenging part of training, Aria smiled and said, "getting ready for the tournaments and sparring and nunchucks," as she twirled her sparkly red nunchucks around her living room to her competition song, a jazzy instrumental version of "Hit the Road Jack." "When I do cool tricks, [the nunchuks] can drop and I could get disqualified and then I won't be able to place."
It is clear that karate for Aria is not just about fierce competition, but also about friendship and having fun. She speaks fondly of one of her female instructors who works with her and also competes in nunchucks. Aria is part of an all-girl demo group called "Blitz and Glitz," which trains together and wears custom glittered sweatshirts with the tagline, "sparkle, sass, and badass." When asked if she had advice for other girls interested in martial arts, Aria shared, "It's fun. It teaches you confidence and self-defense."
Aria's family has supported her over the years to help her advance in karate. She started practicing when she was only four years old after her father, Zach, spoke to a coworker who suggested Aria might enjoy and benefit from training in martial arts. Since then, Zach and Aria's mother, Jen, have invested in her training at Leclerc's. They've made sure she gets to practice every day, accompanied her to tournaments around the country, and cheered her on every step of the way. Zach knew his daughter had a special talent when she competed in her first tournament in Philadelphia in 2018. "Right then I knew it was game over. It was her first away tournament and she won first place in everything that whole day." It was only one day after she was approved to join the tournament team from her martial arts school.
Despite her remarkable success at such a young age, Aria speaks of her practice in the matter-of-fact manner of a pro athlete. Her aspirations for 2022? "To get first place in fighting and everything else in NASKA."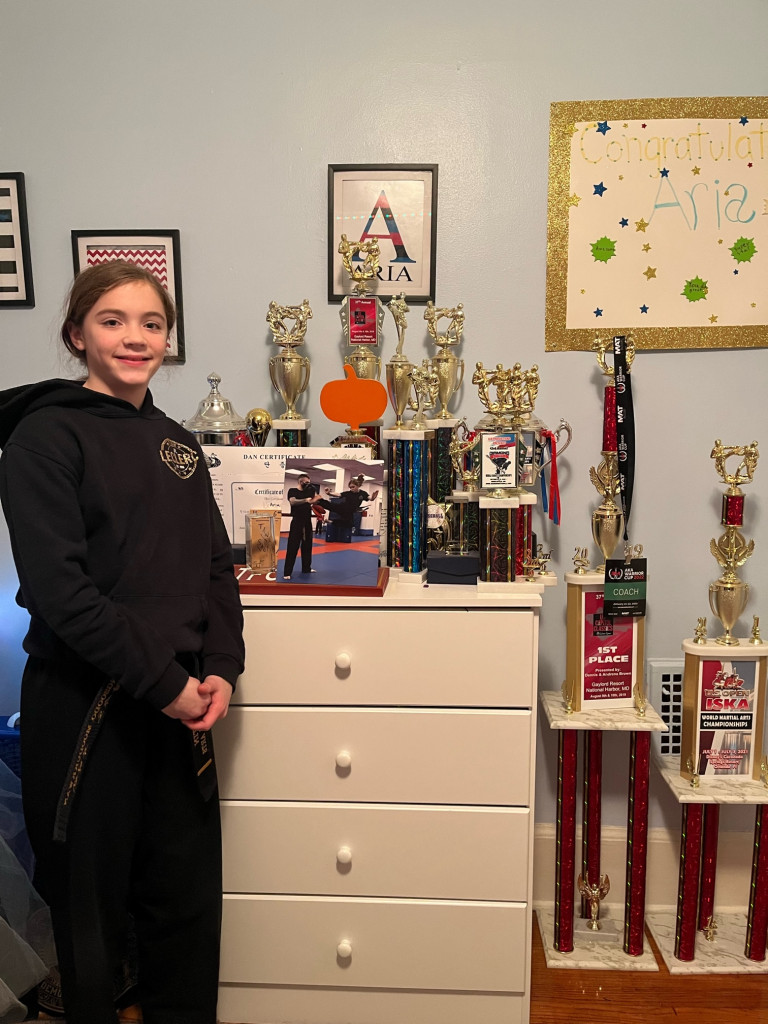 Facebook Comments