If you were to walk along historic Academy Street or Garfield Place during the month of May, your experience might be reminiscent of turn of the century Poughkeepsie with period architecture framed by blossoming trees and flowerbeds while residents ready porches and verandas for warmer weather.  Now you've entered an artist's venue seeing firsthand matchless designs created by architects with a vision 150 years ago.  These fragile buildings, and so many more beautiful examples in Poughkeepsie, have endured time, weather, and even neglect because of serious local historic preservation efforts.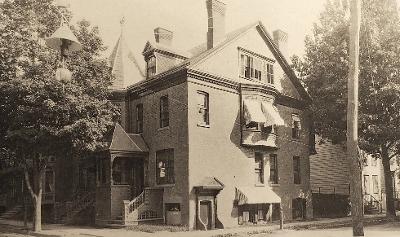 May Is National Historic Preservation Month!  The celebration of recognizing our architectural heritage is rooted in the National Historic Preservation Act of 1966, which set up the National Register of Historic Places.  Since then, historic preservationists, working in concert with local and state governments, have passed laws to protect those buildings that survived demolition at the end of urban renewal. 
Historically landmarked properties in every ward of the city are protected under the city code, the Historic Preservation Ordinance.  The volunteer City of Poughkeepsie Historic Districts and Landmarks Preservation Commission (HDLPC) of professional historians, architects, historic homeowners and historic preservationists are tasked with protecting these buildings, monuments and properties. 
204 Church Street on the southeast corner of Church and Academy Streets is a designated historic property that was placed on the National Historic Register in 1980.  The building was locally nominated in 2014 by former HDLPC commissioner, Holly Wahlberg.  Today the building appears abandoned with pieces missing.  To the thousands of travelers who traverse the arterial the question of how this could happen to such a great building, is on everyone's mind.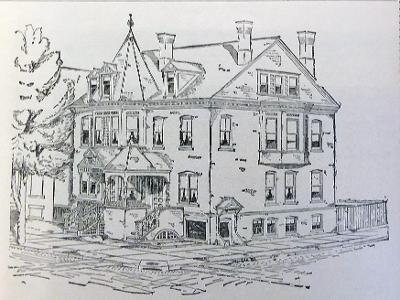 After years of neglect, this 1887 Queen Anne residence and former office of Poughkeepsie's famous architect, Arnout Cannon, Jr., is on its way to being restored thanks to efforts by local developers (Baxter Building Corporation, LLC) who recently purchased the building from the city.  Their intention is to rehabilitate the landmark and return it to productive commercial use as well as an appropriate historic appearance.  Proposals for the preservation work have been approved by the local historic commission and are being submitted to the State Historic Preservation Office in order to ensure compliance with the highest national standards. 
Arnout Cannon, Jr. (1839-1898) studied architecture and worked with his brothers, who were local builders, before focusing solely on design. Cannon conceived the new Wallace's department store and installed his office there before moving to 204 Church Street. He designed residences with ornamental details that still stand on Balding Avenue and Carroll Street. Cannon also planned the Elting and M. Shwartz Buildings on Main Street, Queen Anne Row on Garden Street and the Brinckerhoff House on South Hamilton Street. Commissioned by the Suckley family of Rhinebeck, Arnout Cannon, Jr. recreated their Italianate home Wilderstein into the Queen Anne mansion it is today. Poughkeepsie acknowledged Arnout Cannon's unique architectural contributions, picturesque and refined, by naming Cannon Street for him.
By the time Cannon was in his late 50s he was experiencing declining health and poor eyesight.  His ability to create and construct beautiful buildings was inhibited and his spirits suffered.  On March 31, 1898, Arnout Cannon, Jr. walked from his home at 204 Church Street to his favorite building the Masonic Temple (today Revel 32).  Once inside the esteemed architect killed himself.
National Historic Preservation Month celebrates the legacy of Arnout Cannon, Jr. and highlights all of Poughkeepsie's historic architecture envisioned by our past local architects.   Poughkeepsie should become synonymous with historic preservation.  Our older buildings cannot advocate for themselves.  They are the evidence of our local heritage and storied past and should be sparking interest to promote heritage tourism and endorsing the fiscal and cultural benefits of historic preservation to the community.  Let us celebrate Poughkeepsie's historic architecture!
Many thanks to former HDLPC Commissioner Holly Wahlberg for her Statement of Significance: 204 Church Street (Residence of architect Arnout Cannon) September 26, 2014
Facebook Comments