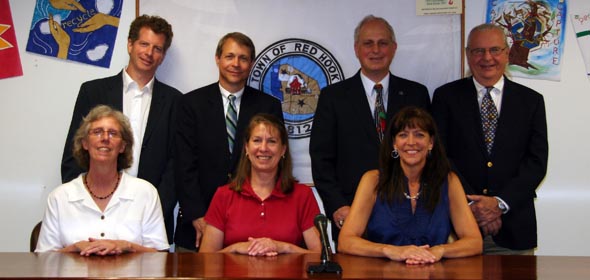 Over 100 Red Hook residents turned out Thursday night at the town hall for the party caucus to select candidates for the 2011 election.
Current town board member Micki Strawinski – who is seeking election to the Dutchess County Legislature – spoke and received the support of the caucus in her efforts. The position of county legislator is selected via petition, not caucus.
"I believe that my life experiences and maturity, including serving 4 years on the Red Hook Town Board, are key assets in understanding the needs of the people of Red Hook, Tivoli and Dutchess County," explained Councilwoman Strawinski. "It will be my preference, during this campaign, to focus on the issues at hand and what I can bring to the County Legislature as a qualified candidate who has, like so many in Red Hook, shown a dedication to this community."
Long-time Red Hook resident and Conservation Advisory Council president Brenda Cagle will be running for town board on the Democratic line this year.
Mrs. Cagle has a long record of working within town committees and organizations.
"Red Hook is a leader and we've done a lot of good things," stated Mrs. Cagle. "Now whether that's farm preservation, creating an artists network, expansion of the library, the bicentennial celebration that's coming next year, getting school budgets passed, the preservation of St Margaret's, the community garden down the street, or sharing services with the villages. All of these efforts combine to make Red Hook an attractive place to live and work."
"However, anyone who has looked around in our commercial areas knows there is plenty more work to be done," she added. "The Centers and Green Spaces plan will provide some business opportunities for our farmers, and that's a great thing. Now we have to be diligent about attracting other kinds of businesses to Red Hook."
Incumbent Town Councilman Harry Colgan also received the nod to seek a second elected term.
"I've been on this board now for four years," stated Councilman Colgan. "Before that I was on the land use task force which was really just a group of us who got together to look at the comprehensive plan which was put together by the town 20 years ago that spelled out their vision for the town." Mr. Colgan serves on the Intermunicipal Task Force as the Tivoli representative which has produced the Centers and Green Spaces zoning plan to be voted upon on July 12.
"The town has had many accomplishments in these last four years," the councilman added. "We have had a zero increase budget… We have a green reputation in our town thanks to people like Brenda Cagle and Ruth Oja who have been proactive in putting issues before the board that we have moved forward."
Current town justices Jonah Triebwasser and Jeffrey Martin were unanimously selected to seek second terms this fall on the Democratic line. Judge Martin, a registered Republican, was embraced by the Red Hook Democrats as the best qualified candidate in 2007 after being rejected by the GOP caucus.
"There's an old saying, 'You don't fix that which is not broken,'" declared Judge Jonah Triebwasser in his acceptance speech. "My good friend Judge Jeffrey Martin and I have reached across party lines to work together to make our courts the pride of Red Hook. [We] have obtained more than $65,000 in grants for vital upgrades to the court's security, facilities and computer systems at no direct cost to Red Hook taxpayers."
Judge Martin reflected on the changes under their tenure during his acceptance speech. "Four years ago Jonah and I stood before you and we made a mutual pledge: we would bring back dignity and respect to the court system, we would eliminate the unjust treatment of people who appeared in court, and we would provide compassion to a system which was unfortunately collapsing. We have worked hard during those four years and today I respectfully submit that we stand before you in a different court room. We have insisted that people be treated with respect."
Highway Superintendent Theresa Burke, a registered Independence Party member, was also unanimously approved by the Democratic caucus to seek her first full term of office. Ms. Burke was elected unopposed in 2010 after being appointed. It is expected that she will appear on both Republican and Democratic lines in November.
"I am confident that the highway department can continue to be an asset to the town of Red Hook by focusing on good communication with the town board and the taxpayer, pro-active road maintenance and careful evaluation and execution of the budget," said Superintendent Burke.
The Red Hook Republican caucus has yet to be scheduled.
Facebook Comments