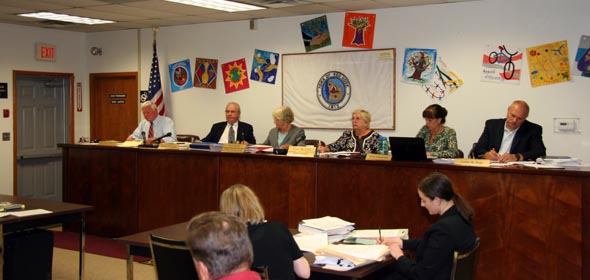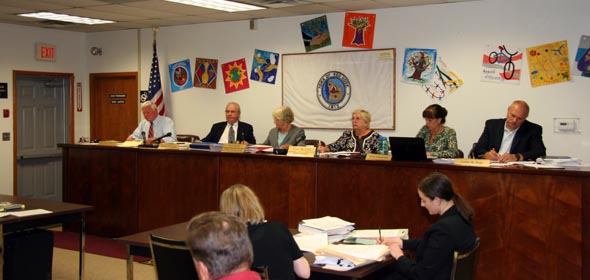 By a 4-1 vote during Tuesday night's town board meeting, Red Hook's Town Board passed the "Local Law No. C of 2011" popularly known as Centers & Greenspaces. The new law will trim overall development potential in the town by 60%, with development concentrated in planned Traditional Neighborhood Districts—and farmlands preserved within an Agricultural Business District.
Balanced bipartisan support for the law came with Supervisor Sue Crane, Board members Harry Colgan, Bill O'Neill, and Micki Strawinski voting yes. Board Member Jim Ross voted against the law, citing concerns about "increased property values."
Colgan pointed out that the Board had passed a strong law that "benefits the community while still respecting individual property owner's rights." Support from previous proponents and opponents of the law confirmed this. By law, the "supermajority" vote limits the validity of further legal challenges and associated costs, a concern of the Board and a reason for extensive work on compromise with many of the Town's largest land-owners.
According to local and regional land-use experts reviewing the new law, the benefits are three-fold—protect Red Hook's rural character; prevent higher property taxes associated with over-development; and promote economic vitality and quality of life especially within Red Hook Village. Improved traffic flow and safer streets are also benefits expected to follow this new approach to development.
The Dutchess County Department of Planning and Development praised the law as one that will "protect an extraordinary working landscape, expand the options of the Town's farmers, and support the vitality of the Village and its surrounding residential and commercial neighborhoods," also noting the Board's "determined efforts to address the issues raised by residents" and the "extensive public review process."
Village leaders also applauded the new law, seen as complimentary to current efforts to improve appeal to new business investment. Local business and retail property owners lauded the new law as one that will improve the quality of businesses in the Town and Village, a change seen as essential to a business turnaround in Red Hook.
Because thousands of hours of development support was volunteered by Town Task Force members, Colgan estimated the actual taxpayer cost of developing the law was surprising low, well under $200,000 over the past 10 years, and supplemented by substantial grants from NY State and Hudson River Valley Greenway.
The new law replaces the current "sprawl and strip-mall" zoning that Town studies show contributing to declining quality of life and increasing tax and service costs. According to Town documents, the law aims to "protect the health, safety and welfare of Town residents" and "bring the Town's Zoning Law and Subdivision Law into conformance" with existing Town and Dutchess County land-use policy and law.
Compared to current 3-acre sprawl zoning with its large houses and access to services only by driving, the character of a Traditional Neighborhood District (TND) will have smaller homes, cottages, and apartments in a walkable compact village configuration mixed with greenways and small retail and professional businesses, similar to the historic streets of Red Hook Village.
The Town's extensive (FGEIS) impact study shows that the previous B1 (business) district zoning in the affected area south of the current village encouraged the kind of strip-mall development seen as contributing to a general business decline in Red Hook.
The new zoning law permits 1388 new residences across the entire town—60% less than currently zoned 3588. The expected time span for this development is 20-50 years, with a likely slow growth rate of about 30-60 homes a year across the Town. A maximum of 297 homes are permitted in the proposed TND located just south of the current village. Colgan said the new law provides architectural and other standards that assure new development will be "more like the classic buildings of the old Village and less like the Extra-Mart gas station."
Because the current business climate is largely unfavorable to both new business and new construction, this new development will almost certainly be delayed until after a general economic improvement and much currently empty real estate is occupied.
The vote culminates 8 years of study, public hearings and negotiations by the Town's Intramunicipal Task Force led by Bill O'Neill. Key task force contributors include Brenda Cagle, Harry Colgan, Charlie Laing and others. The Task Force's work followed prior work developed by leaders such as Marirose Blum Bump in the Town's Comprehensive Plan, aimed to protect rural character and prevent sprawl. All told the vote culminates nearly three decades of work by community-focused leaders and volunteers. The Red Hook Democratic Party has made passage of an anti-sprawl law like this central to its platform for over two decades.
Centers & Greenspaces has been cited as a land-use model throughout New York and won the prestigious "Groundbreaker's Award" from Pace University Land Use Law Center—the leading experts in the field. Research and development was funded by grants from the Hudson River Valley Greenway and the New York Department of State's Smart Growth Award. The following individuals and organizations have also supported Centers & Greenspaces: Village of Red Hook officials; Scenic Hudson; Hudson River Heritage; Wint Aldrich (Town Historian and State Parks Deputy Commissioner); Town of Red Hook's Planning Board, Conservation Advisory Council and Economic Development Committee, and others.
Facebook Comments