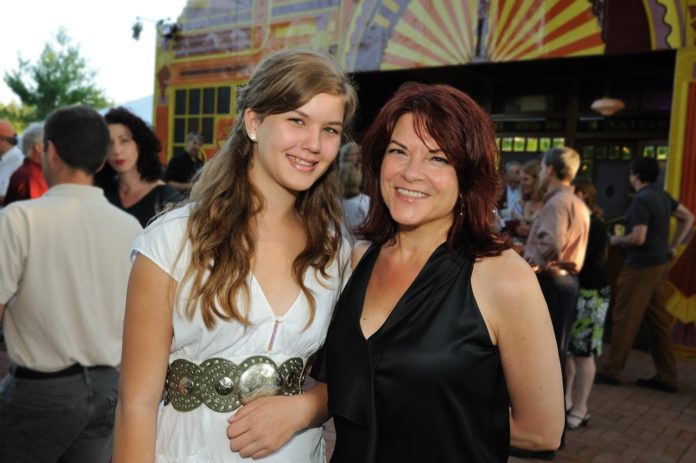 Over 230 people turned out at the Bard Spiegeltent for "An Evening with Rosanne Cash," a concert to benefit the Red Hook Education Foundation. It was the first such event for the new charitable group whose mission is to support Red Hook schools.
Guests enjoyed a champagne reception in the Spiegeltent garden. Singer Rosanne Cash mingled with the crowd, and thanked members of the education foundation board for starting an organization that benefits children. Cash is a long time supporter of many children's charities.
After the reception the audience was seated at tables in the Spiegeltent, where they listened to Red Hook class of 2015 student Lorelei Smith sing Fleetwood Mac's "Landslide."
"I was honored to sing at the benefit," said Smith. "It was a great opportunity and I had a lot of fun."
Cash took the stage and sang many of her own songs, as well as some of her father's, the late Johnny Cash, including "Tennesee Flat Top Box" and "Sea of Heartache." Cash was accompanied by her husband, guitarist John Leventhal.
The audience gave the performers a very warm reception. "Now I really love Rosanne Cash," said local resident Richard Douglass.
After the program many people purchased copies of Cash's autobiography, Composed, and CDs of her many albums. Martha Strever, Red Hook Math Department Chair, bought 2 of Cash's CDs. "This was a wonderful evening," said Strever.
Julia Crowley and Tricia Reed were the co-chairs for the benefit. "The entire event was underwritten by local individuals and organizations, " said Crowley. "The community was very supportive."
"The foundation reached and exceeded our fundraising goal of $30,000 for this event, said Reed. "And, we all enjoyed a fabulous performance by an amazing, gracious artist."
The Red Hook Education Foundation was founded in August of 2010. For more information go to www.redhookeducationfoundation.com, or send an e-mail to info@redhookeducationfoundation.com.
Facebook Comments