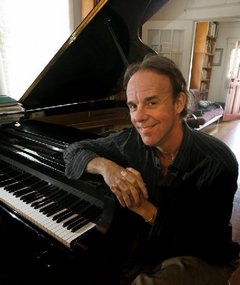 Jazz pianist and composer Tom McDermott will play New Orleans favorites this Wednesday, August 17 at 8PM at Red Hook's historic Elmendorph Inn.
McDermott, one of New Orleans premiere piano players and composers, has steeped himself in ragtime and early jazz styles for most of his career. He is noted for his unique and eclectic style, sometimes described as "New Orleans hijinks with a classical strut."
The New York Times calls McDermott "not simply a follower of tradition or a repository of old tunes" but a composer "within a wide-ranging idiom with a knowledgeable feeling for his sources and a sense of humor." McDermott has recorded with the Dukes of Dixieland, the Dirty Dozen Brass Band and as a solo artist.
The concert is brought to you by the Friends of Elmendorph with WKZE and the 'b-side' heard every Saturday afternoon at 5PM on 98.1 FM WKZE. Admission fee $10. Beer and wine available. The circa 1760s Elmendorph Inn, now air-conditioned, is located at 7562 N. Broadway (Rt. 9) in Red Hook.
Facebook Comments