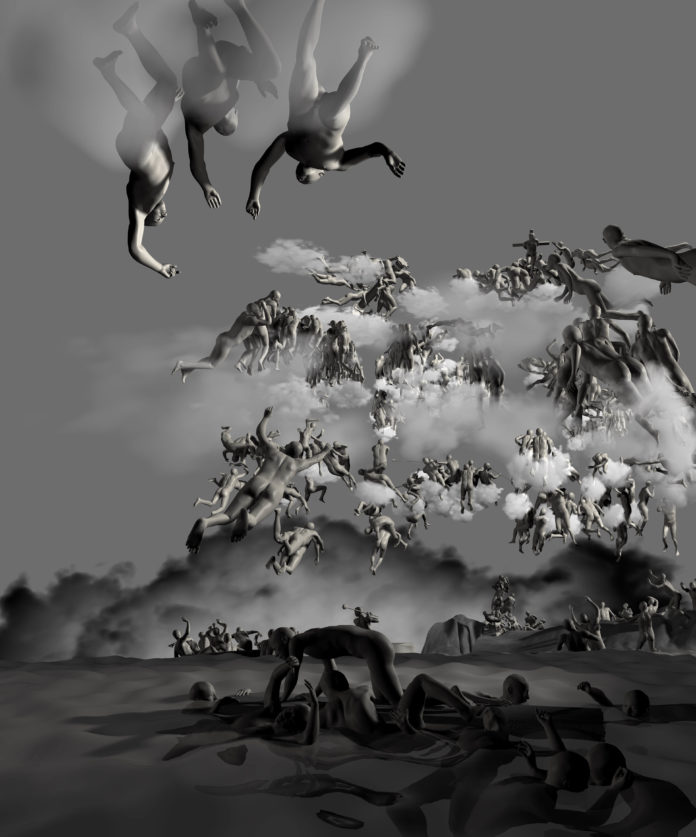 Bard College will host the exhibition In God We Trust: Contemporary Chinese Christian Art, curated by Patricia Karetzky, Oskar Munsterberg Lecturer in Art History at Bard College, and Daozi Wang Min, professor at Tsinghua University in Beijing. The show will be on display from September 1 to September 30 in Woods Studio, Bard College. An opening reception will be held on Thursday, September 1, from 5 to 7 p.m., and Patricia Karetzky will give a lecture at 6 p.m. The reception, lecture, and exhibition are free and open to the public.
In God We Trust: Contemporary Chinese Christian Art explores the theme of Christianity in Chinese art today. The Chinese Cultural Revolution (1966–76) did what centuries of civil war, foreign invasion, and periods of chaos and uncertainty could not. Overnight Chinese religions were extirpated. In the aftermath, faith in Mao was dissipated, though the inland population, as opposed to that of the coastal cities, still venerates him. Since the 1980s, in the rush to modernization and capitalism, many social programs that provided healthcare, housing, food, and unemployment insurance were abandoned. Large segments of the urban population of China have been left to their own resources. Those in the countryside still struggle for subsistence. Bereft of the comforts of the cult of Mao, many Chinese, feeling increasingly vulnerable and fragile, are turning to religion. While the government has allowed the reestablishment of several religious institutions, including Catholic and Protestant orders, In God We Trust: Contemporary Chinese Christian Art presents the kind of Christian art not sanctioned by the government.
Renowned artists Miao Xiaochun and Cui Xiuwen and artists like Gao Yuan and Longbin Chen appropriate the great masterpieces of Western art by Leonardo, Michelangelo, Raphael, and others, which form the basis of art education in China, and interpret them in unique ways to infuse their art with spiritual meaning. The Gao Brothers (Gao Chen and Gao Qian) appropriate Christian themes as a form of social protest, contesting the restrictive policies of the government. Though these artists are not necessarily religious practitioners, their use of Christian themes is particularly significant in today's society. A second group of artists, like Li Qiang, explore the grassroots movement of Christianity in China, documenting in their works the humble life of rural practitioners and believers; other artists like Cao Yuanming, Daozi, Gao Ge, Yu Benping, Wu Yingde, and Zhu Jiuyang use art as an expression of their own faith.
Facebook Comments