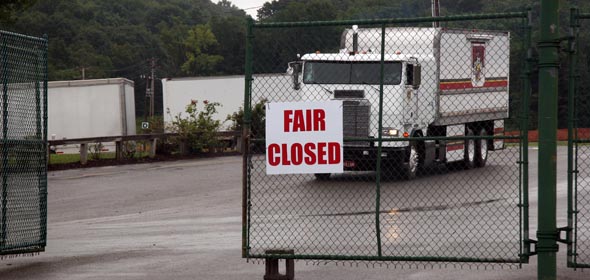 The rumors were spreading, would the Dutchess County Fair close for the weekend?
Friday afternoon it was official – the announcement was made on Facebook:
THE 166TH COUNTY FAIR WILL CLOSE TONIGHT AT THE USUAL TIME. WE WILL NOT BE OPEN TOMORROW OR SUNDAY. THIS WAS AN AGONIZING DECISION THAT WAS REACHED ONLY AFTER HOURS OF DELIBERATIONS, TAKING ALL FACTORS INTO CONSIDERATION. OUR FINAL DECISION WAS PREDICATED ON OUR OVERRIDING CONCERN FOR PUBLIC SAFETY. THIS APPEARS TO BE A VERY MAJOR STORM & WE SIMPLY MUST GIVE OURSELVES THE NECESSARY TIME TO KEEP EVERYONE SAFE & OUT OF HARM'S WAY. WE REALIZE THIS IS A MAJOR FINANCIAL BLOW TO ALL OF OUR VENDORS, CONCESSIONAIRES & CARNIVAL OPERATORS. WE LOOK FORWARD TO A BETTER OUTCOME AT THE 167TH DUTCHESS COUNTY FAIR, AUGUST 21ST THROUGH THE 26TH WHEN ALL UNREDEEMED TICKETS WILL BE HONORED. WE APPRECIATE THE UNDERSTANDING OF EVERYONE IMPACTED BY THIS DECISION.
Then on early Saturday, the Dutchess Fair officials released another statement:
The decision to close the Fair Friday night, August 26th was made after several meetings & hours of consultation with the appropriate representative of local, county & state government. While in operation, the fair creates the largest "city" from Albany to White Plains, requiring huge resources of police, fire, EMT & emergency mgmt officials. These resources needed to be made available to other parts of the county & the state to assist in preparation for management of this huge storm. We also could not justify placing our 350 employees, hundreds of volunteers and animals in harm's way. While every effort was made to try and salvage at least some of Saturday's schedule, in the end, we could not justify remaining open in light of the potential consequences.
While the weather Saturday was wet, high winds are not expected until late in the evening. However, it takes quite awhile to break down and pack up the rides and tents – something that could not be done in time if the fair remained open on Saturday.
Facebook Comments