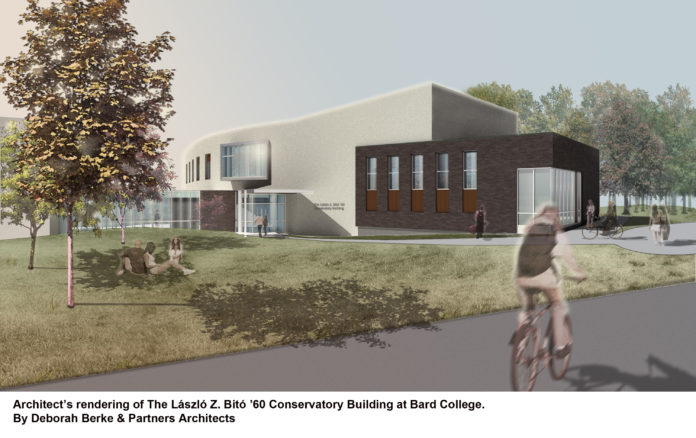 The Bard College Conservatory of Music has received a generous $9.2 million gift from Bard alumnus László Z. Bitó, class of 1960, for the construction of The László Z. Bitó '60 Conservatory Building. This state-of-the-art teaching and performance facility addresses the growing needs of the Conservatory, brought on by its fivefold growth since its founding in 2005. With an anticipated completion date of January 2013, the building is scheduled to begin construction in October. The design of the building, by Deborah Berke & Partners Architects in New York City, supports the Conservatory's dedication to providing top-level musical training in the context of a liberal arts education. A groundbreaking ceremony for The László Z. Bitó '60 Conservatory Building will take place on Saturday, October 29 at 11:30 a.m., adjacent to the Milton and Sally Avery Arts Center at Bard College.
Robert Martin, director of The Bard College Conservatory of Music, says, "My colleagues and I, and the students of the Conservatory, are thrilled beyond words with this gift, and deeply grateful to Mr. Bitó and his wife, Olivia Carino, for their generosity and for their belief in us. The László Z. Bitó '60 Conservatory Building will make a difference in our work and our life every day."
The performance space of The László Z. Bitó '60 Conservatory Building, a 145-seat hall that can be configured in a variety of ways, allows students to reimagine the traditional concert space. It also features one-touch audio and video recording, as well as live-streaming capability. The building contains 15 teaching studios and a lounge, along with a large classroom that can also be used for audio and video recording. The project uses geothermal wells and heat pumps and follows Bard's environmental best-practice standards.
In addition to their generous gift, Mr. Bitó and his wife, Olivia Carino, have been actively involved in helping the Conservatory recruit gifted students from Hungary. This year, the Conservatory has enrolled 20 young musicians from Hungary. In recognition of the enthusiasm and support of the Bitós, six Conservatory students from Hungary have been designated as "Bitó Scholars." Furthermore, in 2009, the Bitós gave a $1.7 million gift towards the establishment of an endowment for the undergraduate program of the Conservatory. At that time, Mr. Bitó wrote: "It is my pleasure to support the budding conservatory program of Bard, remembering the support I received from the college that started my academic career."
About László Z. Bitó
László Z. Bitó was 22 years old when he escaped from his native Hungary after the crushed revolution of 1956. He was granted asylum in the United States and came to Bard College in the winter field period of 1956–57. Bitó graduated from Bard College in 1960 as a pre-med biology major. He went on to obtain his Ph.D. from Columbia University in medical cell biology. His research led to the development of Xalatan, the drug that has saved the sight of millions of glaucoma sufferers. He has published more than 150 scientific articles and received, among many other honors, the highest recognition in the field of eye research, the Proctor Medal. Upon retiring from Columbia University as Emeritus Professor of Ocular Physiology, he returned to Hungary and his first love of writing. Of his 14 nonscientific books—novels, essays, and three anthologies of some of his more than a hundred newspaper and magazine articles—some have appeared in translations in half a dozen countries.
ABOUT THE BARD CONSERVATORY OF MUSIC
Building on its distinguished history in the arts and education, Bard College launched The Bard College Conservatory of Music in 2005. This innovative five-year program of study is guided by the principle that musicians should be broadly educated in the liberal arts and sciences to achieve their greatest potential. All students complete two degrees, a B.M. in music and a B.A. in a field other than music. Robert Martin is the Conservatory director, and Melvin Chen is associate director. The Conservatory also includes the Graduate Vocal Arts Program, directed by Dawn Upshaw and Kayo Iwama, the Graduate Conducting Program, codirected by James Bagwell, Leon Botstein, and Harold Farberman, and the Preparatory Division for young people up to the age of 18. The Conservatory currently has an enrollment of more than 112 full-time students.
Facebook Comments