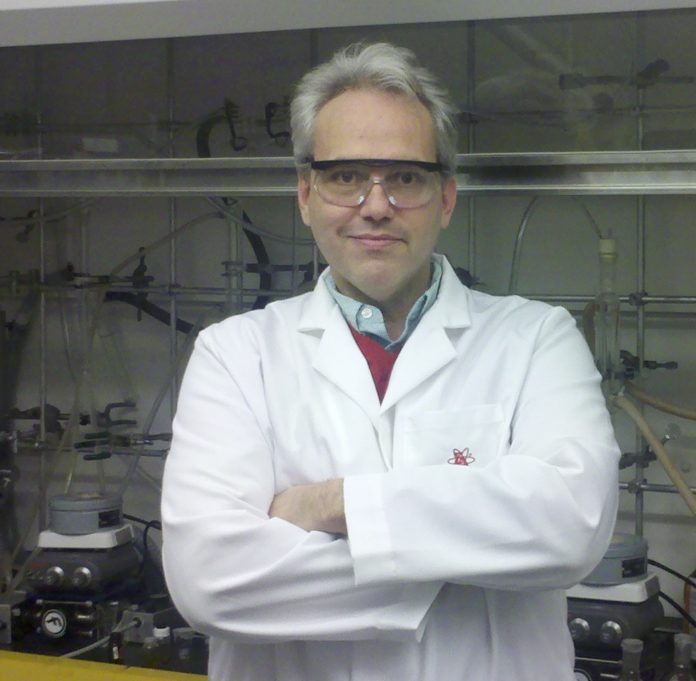 Bard College Chemistry Professor Craig Anderson has received a Henry Dreyfus Teacher-Scholar Award for 2011. The highly selective award is based on accomplishment in scholarly research with undergraduates as well as a compelling commitment to teaching. It provides an unrestricted research grant of $60,000.
Anderson, professor of chemistry, director of the Chemistry Program, and chair of the Division of Science, Mathematics, and Computing at Bard, said the proposed research for the Dreyfus award focuses on the synthesis, characterization, and reactivity of hetero-multinuclear anti-cancer metal complexes. The Dreyfus award follows on a $198,000 award that Anderson received in August from the Chemical Structure, Dynamics and Mechanisms Program of the Chemistry Division of the National Science Foundation. That award will fund research centered on selective C-H activation and subsequent C-C bond coupling.
Mark Halsey, associate dean of Bard College, said Anderson's work and the research opportunities available to his students exemplify Bard's commitment to undergraduate science education and the College's belief that science is learned best through the experience of doing research. "Professor Anderson has a long track record in engaging undergraduate students with exciting and fruitful research," said Halsey, stressing that many of Anderson's students go on to graduate study at leading research universities. "We are proud that the Camille and Henry Dreyfus Foundation has acknowledged the excellent work of Professor Anderson with a Henry Dreyfus Teacher-Scholar Award for 2011."
Craig Anderson has been teaching at Bard since 2001. His research is centered on the study of transition metal complexes with general applications toward bioinorganic and catalytic systems, and his work has been published in numerous scholarly publications devoted to chemical sciences. He holds B.Sc. and M.Sc. degrees from the University of Western Ontario and a Ph.D. from the Université de Montréal.
The Camille and Henry Dreyfus Foundation, Inc., was established in 1946 to advance the science of chemistry, chemical engineering, and related sciences as a means of improving human relations and circumstances. The Foundation seeks Henry Dreyfus Teacher-Scholars who, as independent faculty members, have demonstrated leadership in original scholarly research of outstanding quality with undergraduates, and excellence and dedication in undergraduate education.
Facebook Comments