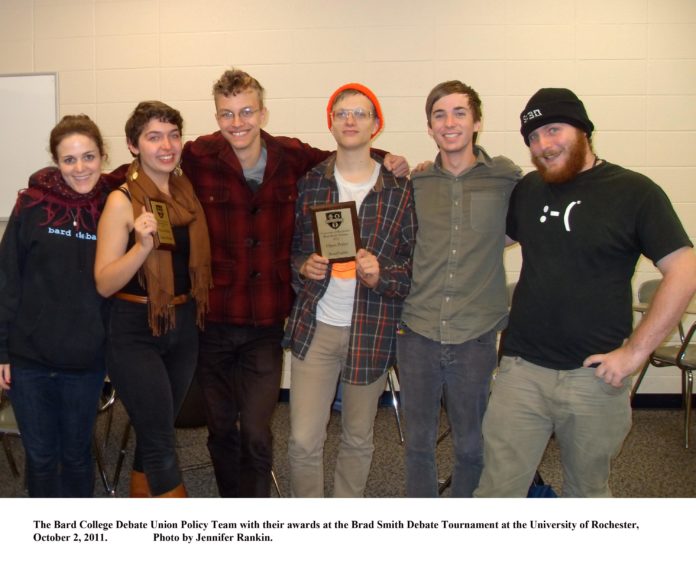 The Bard College Debate Union has enjoyed a highly successful fall semester, accruing 14 total awards and making it onto the top-20 national list of novice policy debate. The team competed at five tournaments this fall (SUNY Binghamton, University of Rochester, Yale, West Point, and the University of Vermont) and brought home awards from every tournament.
Highlights include placing in the Novice Worlds Finals at both SUNY Binghamton and University of Vermont, Varsity Policy Semifinals at Rochester, and winning multiple top-10 speaker awards. Novice policy debaters Anna Daniszewski '15 and Max Taylor-Milner '15 have just been named one of the top-20 novice policy debate teams in the entire country. For more information, including detailed tournament results, go to debate.bard.edu.
The Bard Debate Union also hosted three public debates on campus this fall, each attracting enthusiastic audiences from the Bard College and Red Hook communities. Topics included: "U.S. Democracy Assistance in the Middle East," "Internet Access as a Human Right," and "The Occupy Wall Street Movement." The Bard Debate Union has been working on several additional debate outreach projects. Senior Zach Israel is working on a Trustee Leader Scholar project teaching debate at the Red Hook Linden Avenue Middle School, and faculty adviser to the Bard College Debate Union, Ruth Zisman, has been guest lecturing about debate at Eastern Correctional Facility through the Bard Prison Initiative program.
Building on the success of the popular Red Hook middle school debate program, the Bard Debate Union is currently in the process of helping the Red Hook High School to establish a thriving debate program as well. The Red Hook High School Debate Team will meet for the first time on December 15. Bard Debate will be hosting the first annual Bard/Red Hook Middle and High School Debate Tournament on Friday, March 9, 2012. The tournament will feature a debate information session and briefing, two full rounds of Worlds-Schools-Style Debate competition, a pizza lunch, and an awards ceremony. The Red Hook Education Foundation is a sponsor of the Red Hook middle and high school debate programs.
Red Hook Schools Superintendent Paul Finch commented, "I would just say that having a connection to a collegiate-level debate team gives us access to an expertise in the process that we may not otherwise have, and that there is a value in having secondary students interact with college-age students to examine complex social issues from multiple perspectives. We want our students to understand and appreciate the stimulation and satisfaction that can come from deep thought about complex issues as well as active civic engagement."
For more information about the Bard Debate Union contact Ruth Zisman, faculty adviser to the Bard Debate Union, at zisman@bard.edu, or visit debate.bard.edu.
Facebook Comments