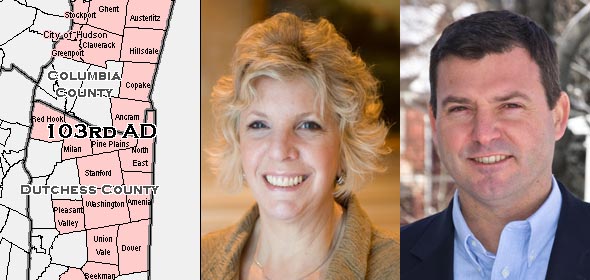 On March 20th, voters will head to the polls in a special election for the New York State Assembly's empty 103rd district seat. The campaign is now in full swing with candidates Didi Barrett and Rich Wager seeking the seat vacated by newly elected county executive Marc Molinaro.
Washington resident Didi Barrett, running on the Democratic and Working Families lines, currently works as a consultant for non-profit organizations. She sits on the board of the Anderson Center for Autism Foundation, the Millbrook Education Foundation and the North East Dutchess Community Fund.
In 2010, Barrett mounted an unsuccessful bid for the New York State Senate seat held by Steve Saland.
"Didi has shown herself to be a leader in our community, and an effective voice for the people of our district. Since running in 2010, she has continued her work helping not-for-profits and highlighting the contributions and challenges of local farmers. Her roots in the Hudson Valley go back decades, and we look forward to sending her to Albany to represent us," said Elisa Sumner, chairwoman of the Dutchess County Democratic Committee.
Barrett says that she has been greatly honored by the nomination and the outpouring of support for her campaign.
"I am committed to fighting for the people of Dutchess and Columbia counties in Albany and to bringing the resources to our towns that will create jobs, control taxes and bring relief from unfunded mandates," said Barrett. "I will continue to be a passionate advocate for this beautiful region and help us realize the potential of our agricultural, natural and cultural resources as economic engines and job generators."
Barrett is squaring off against Republican Richard Wager Jr., a resident of Millbrook, running on the Republican, Conservative and Independence lines. Wager has formerly held positions in both the Giuliani and Bloomberg administrations in New York City and is the son of former Poughkeepsie Journal publisher and Gannett News Vice President Richard Wager Sr.
In 2008, Wager lost a GOP primary to Sandy Treadwell who went on to face Kirsten Gillibrand in the congressional election that November.
Speaking at his campaign kickoff event in Hudson, Congressman Chris Gibson (R) praised Wager by saying that he "has the right skills, attributes and experiences to represent us in Albany to help grow the economy, expand opportunities and restore fiscal discipline."
At the event Wager lamented the flight of recent college graduates and young couples from New York due to a perceived lack of economic opportunity, saying that the phenomenon could be corrected with the right leadership in Albany.
"Things need to change" said Wager. "When I head to Albany with your support and your help the first thing I'm going to do is to turn things upside down, because by turning things upside down you make things right."
With the election coming up fast, both candidates have pledged to travel the district and meet as many voters as possible. The winner will serve out the remainder of the term and could face re-election in November under new district lines which have not yet been finalized.
Facebook Comments