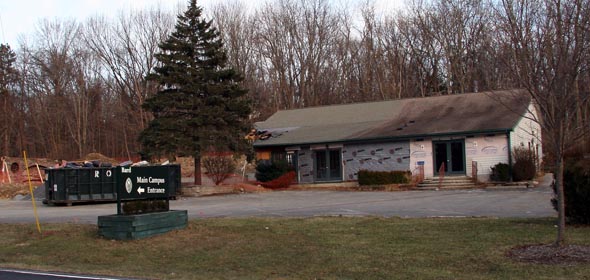 Major construction is underway at the former site of Cappuccino's by Coppola on 9G in Red Hook to transform the restaurant into the Office of Development and Alumni/ae Affairs and a branch of the famous New York City pizza chain, Two Boots.
The $1.3 million dollar project, designed by local architect Peter Sweeney, is being constructed of green materials and is set to include several innovative cost-cutting and environmentally conscious features. Among these are an advanced geothermal heating system, light sensors that dynamically adjust the indoor lighting level to account for the building's many skylights, energy efficient insulated glass and landscaping that incorporates native plant species.
Original plans called for renovations but due to damaged found from an old kitchen fire, parts of the building will need to be rebuilt.
This modern space will allow the Office of Development and Alumni/ae Affairs to relocate from their current cramped quarters perched atop the third floor of Bard's Ludlow administrative building. In addition, the Alumni/ae Center will feature a multipurpose event space that can serve as a mini-performance venue and exhibition gallery for Bard Alumni/ae and faculty.
The idea to open a Two Boots pizzeria at the site came from Two Boots' founder and honorary Bard Alum Phil Hartman. Hartman attended Bard as a visiting film student from Princeton in 1976 and has since seen his two children graduate from the school.
Two Boots is known best for blending the cuisines of its two namesake boot-shaped locals: Italy and Louisiana. The Cajun influenced pizza restaurant has been a New York City institution since it opened its first restaurant in 1987. Since then, it has rapidly expanded throughout the city and recently opened new locations in Los Angeles and Baltimore.
The restaurant will also provide a small stage for live performances. Hartman hopes the restaurant will become an important venue for the College and the town by hosting live music, comedy, poetry slams, readings, mini-plays and even spelling bees.
Two Boots is expected to open around the time of Bard College's commencement ceremony in May, while the Office of Development and Alumni/ae Affairs will move into their new building over the summer.
The 9G project is just part of a flurry of construction underway at Bard College, including expansions of the cafeteria and gymnasium and new buildings to house the Bard College Conservatory and additional music practice rooms.
Facebook Comments