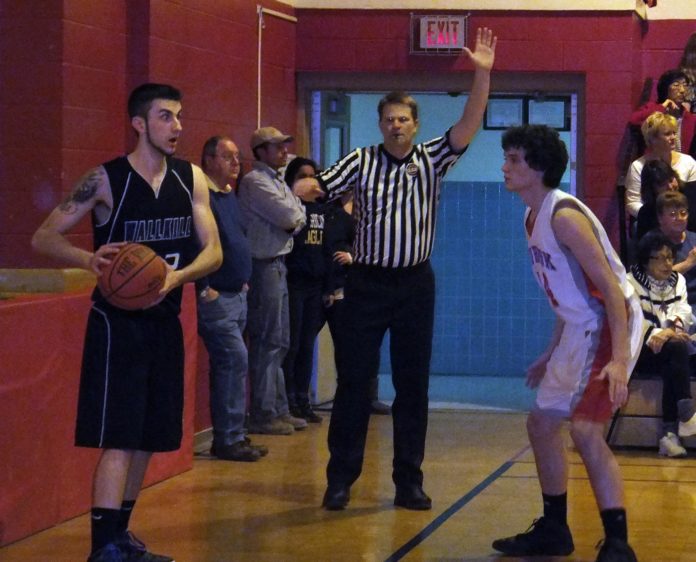 Red Hook Boys basketball beat the Wallkill Panthers at home Monday night.
Red Hook, having been handed their first regular season loss by Saugerties only days earlier, played with verve and left Wallkill shell-shocked after a brutal first quarter press routine. The Panthers were rarely able to get a shot to drop and were noticeably lost in their passing, often forced to throw low angled, skittering passes. Red Hook controlled the tempo of the game, stalling the offense on their side of the floor and forcing Wallkill to play a constantly hurried game of catch up.
Compared to the Raiders' sharp shooting, Wallkill's offensive effort was woeful. In the first quarter, the Panthers only occasionally snuck past the Raiders smothering defense and relied on perimeter shooting.
The Raiders were up 29-22 at the half.
Following an anemic third quarter in which Red Hook outscored Wallkill 19-12, Wallkill was in control for a short period in the fourth. After banging the boards and going at the hoop for a solid two minutes, the Panthers put down an authoritative three, and at one point were within nine points of the Raiders. All hopes of a comeback were dashed quickly, though, courtesy of a series of breezy top-key turnaround jump shots drained by Red Hook junior Gabe Insogna.
Insogna would finish the game second in scoring for the Raiders with 16 points, behind Joe Stortini, who tallied three 3 pointers on his way to a 23 point night. The Panthers were led in scoring by Jamie Panetto, who had 14 on three 2 point field goals and eight-for-eight free throw shooting.
The Raiders are scheduled to face FDR/Hyde Park this Friday at 6:30pm at home.
Facebook Comments