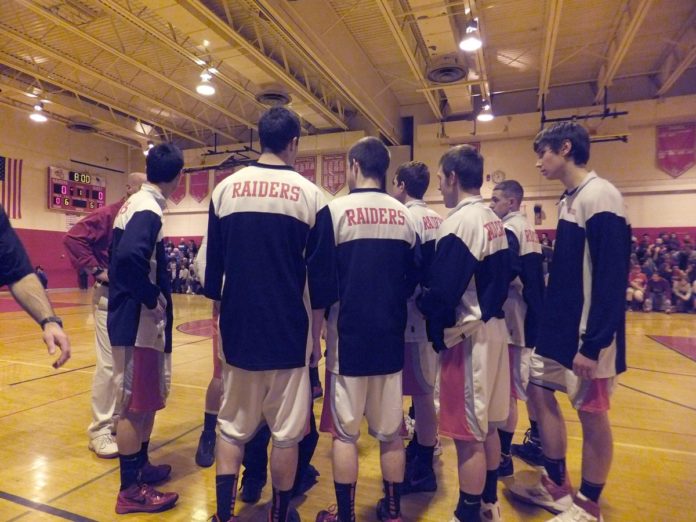 On the last home game of the regular season, the Raiders were dealt their second loss, courtesy of the FDR Presidents in a 60-52 contest.
The Raiders looked hot beginning the first quarter, making the first basket on an easy layup and following that with a double teamed top-key jump shot from Joe Stortini. Despite Red Hook's offensive efforts, the game was tied at 12 at the end of the first quarter.
The Prez outscored Red Hook 18-12 in the second quarter. Red Hook ran a high press defense during the first half of the second, and kept Roosevelt from putting any new points on the board until the Presidents sunk a pair of free throws at the 4:15 mark. The Presidents would go on to drain all six of their free throw attempts in the second quarter and finish seventeen of twenty from the line for the game. Red Hook would finish with three of four free throws made.
FDR lead at halftime 30-24.
Roosevelt missed an opportunity to hit a statement making, wide open three in the opening seconds of the third, leading to a comeback by the vengeful Raiders, who pushed the ball and tied the game at 5:31. The Presidents took the lead and were immediately countered by a pair of spotless threes from Nolan Parr. The quarter ended 46-46 with the Raiders seeming primed to quash the defiant Presidents.
That didn't happen. During the fourth, the reticent Raiders seemed listless in the face of two confident FDR threes, did not commit to their defensive press, and were outscored 14-6. Red Hook's leading scorer was Yegor Stjupan, who tallied 20 points on ten two point field goals.
Facebook Comments