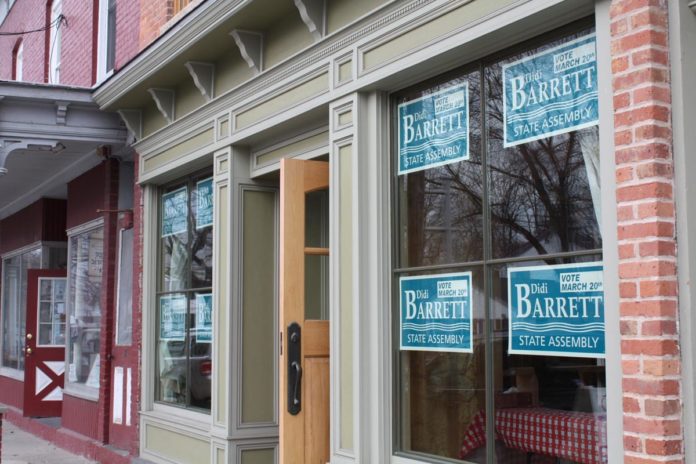 New York's senior US Senator Charles Schumer officially endorsed Didi Barrett in the New York State Assembly's March 20th special election, at the opening of her campaign headquarters in Red Hook on Wednesday. The long time Senator, himself a former assemblyman, arrived in Red Hook around 3pm to talk with residents and speak on behalf of Barrett.
Outlining the importance of this special election, Senator Schumer painted a broad picture of the national political scene. "A move is being made to pull the country so far to the right that it is completely unprecedented," he remarked to the large crowd gathered in Barrett's headquarters, "a small group of very rich and very greedy people have managed to capture the Republican Party and their fingerprints are starting to show."
He argued that Republican policies at the national and state level are aimed squarely at undermining the shrinking middle class in favor of special and corporate interests.
Introducing Barrett as somebody who is more interested in the public interest than a public office, he proclaimed that "this election is not just about getting a Democrat elected, it is about getting somebody special elected – somebody who will shakes things up in Albany by pulling people toward her rather than pushing them away."
Opening with a personal comment, Barrett noted that getting into politics for the first time at her age should assure voters that she is not looking to climb the political ladder.
"I am not looking for the next big thing – I am simply looking to represent the 103rd district as best as I can. I know who I am."
She focused her policy discussion on helping the Hudson Valley's businesses and institutions remain competitive and successful in a difficult economic climate.
"Small businesses and families are having a hard enough time," she said, "We need to get rid of the burdensome MTA tax on businesses and implement substantial tax breaks for the middle class."
She also railed against unfunded mandates imposed by the state on municipalities and school districts, arguing that "all the good ideas in the world are a wasted effort if you don't provide actual funding."
"You can't change things at the top without changing them at the grass roots," Schumer reminded residents, "In a special election with lower turnout each one of you has much more clout than in a regular election season."
The Senator and Barrett have been friends for over 30 years, Barrett's husband having been Schumer's college roommate.
Didi Barrett's campaign headquarters is in a storefront at 29 West Market St across from Taste Budd's.
The special election for the 103rd New York State Assembly seat will take place on March 20th. Polls will be open from 6am to 9pm. Red Hook village elections will take place on the same day in Village Hall from 12pm to 6pm.
Facebook Comments