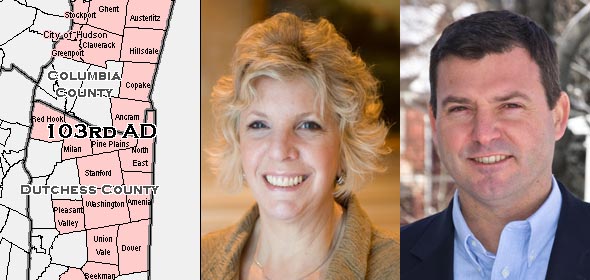 The two candidates for the March 20th special election – Democrat Didi Barrett and Republican Rich Wager – met the Poughkeepsie Journal editorial board on Friday night to answer questions on the issues.
According to the Journal, while they agreed on many issues, they expressed differences on raising the minimum wage, the newest pension reform proposal and local control of hydrofracking.
Also at issue was whether Wager, who has worked and lived in New York City but also owns a home in Millbrook, would be able to serve as a full-time legislator. Some neighbors in Millbrook have claimed the house has been unoccupied for long stretches until very recently when he became a candidate for the special election.
According to public county property records, Wager's home in Millbrook was purchased in May 2007 prior to his run against then-Congresswoman Kirsten Gillibrand. Wager eventually lost the 2008 GOP primary to Sandy Treadwell. Wager stated that he grew up in Hyde Park and lives full-time in Millbrook.
Barrett, also originally from New York City, has stated that she has been a resident of the Town of Washington for 25 years, lived in Dutchess full-time for the past five years and is active in her community.
For more information and details about the editorial board, visit the Poughkeepsie Journal web site.
Facebook Comments