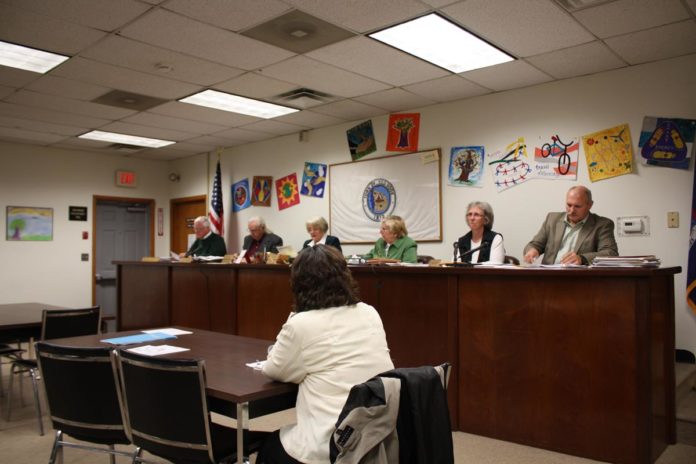 The Town Board's ongoing debate over reducing the number of seats on the Red Hook Zoning Board of Appeals continued on Wednesday night with testimony from ZBA Chair Nick Annas. There has been some consideration to eliminate two of the seven member ZBA's positions.
Chairman Annas spoke in favor of switching to a five member format, reasoning that the seven member Board has become difficult to manage effectively. Annas believes that five member boards, such as the Board of Education and the Town Council, have an easier time finding citizens who are able to participate and engage with their responsibilities fully. Absenteeism has become a problem for the ZBA, which holds the vast majority of its meetings missing at least one member.
According to Annas' testimony, Board member Jim Hegstetter missed all but one meeting last year. The Chair was quick to stress that such absences are often unavoidable and that especially in Hegstetter's case business often takes members out of town. Further, he explained that the ZBA has often had to postpone important decisions because they were unable to reach a quorum.
Councilman Jim Ross, however, strongly objected to the idea of cutting the Board. Ross has been involved with the ZBA since its inception in the 1970's and maintains that it has always worked very well. He dismissed the notion that a five member board would have a better chance at finding motivated participants.
"Obviously the Town Board only nominates people to the ZBA if they appear committed," he reasoned, "the problem is simply that people's lives and their jobs change. That will happen just as readily with a five member board."
Moreover, Ross argued that because the ZBA holds real zoning power, it must try to incorporate a variety of voices and opinions. The non-elected ZBA holds the power to 'spot zone' by awarding variances. Ross maintains that it is not in the best interest of the community to concentrate that power any further.
The official New York State guidelines for municipal governments updated to recommending a three or five member ZBA in the early nineties. However, since Red Hook's organization pre-dated the law, it was allowed to continue with seven members. Councilman Harry Colgan additionally informed the Board that Red Hook was one of only two remaining towns not to have switched over to at least the five member model.
The discussion was tabled yet again by Supervisor Sue Crane, who suggested that they try to find dependable alternates for the ZBA before making any permanent cuts.
Facebook Comments