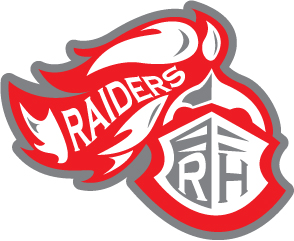 After watching the Lady Raiders grab the Section 9 Championship against Cornwall, the boys focused on the task before them: Marlboro, the team that bounced them out of the MHAL playoffs.
The game started well for the Raiders as Red Hook Senior Joe Stortini scored in the first quarter, sinking two three pointers and revving up the Red Hook fans in the face of a cadre of Marlboro boo birds and some chippy defense from the Iron Dukes.
By the second quarter, Red Hook was clearly in charge. Brendan Tator scored on a breakaway and senior Sean Michitsch hit a three with :19 left in the quarter to help put the Raiders up 32-23 at the half.
Marlboro came out of the locker room holding nothing back and playing aggressively. Senior center Allan Mussachio, who had given Red Hook matchup issues all night, continued his solid play in the third quarter facing George Stjupan.
A pair of threes from Raiders junior Mike Rogers managed put some distance between Red Hook and the Iron Dukes but Marlboro came within three points of the lead in the last two minutes. Another Stortini trey made it 45-39 to finish the period.
"We missed the presence of Ray Wright, especially in a game that was so physical," said Red Hook assistant coach Andrew Makebish. "Our guys played extremely hard."
Brendon Tator, Red Hook junior and combination linebacker-guard, started for the Raiders' injured senior Ray Wright and played a tough game, but couldn't summon Wright's level of offensive production.
They could have used Wright in the fourth. Facing elimination, Marlboro closed the gap on Red Hook quickly tying the game at 45 with 7:03 left. Red Hook and Marlboro continued to swap baskets throughout the quarter – including a Stortini trey with :44 left on the clock to tie it at 60. They finished regulation tied at 62.
Once overtime started, it was clear that Marlboro had more left in the tank. Red Hook's guards looked exhausted in OT, not picking up on Marlboro's backcourt defense and turning over the ball several times in the four minute extra period. In the end, Marlboro claimed a 77-68 win.
For the first time in many years, Red Hook failed to win either the MHAL or the Section championship – both titles now held by Marlboro's Iron Dukes. With the loss, the Raiders finish their season 16-4 overall.
Facebook Comments