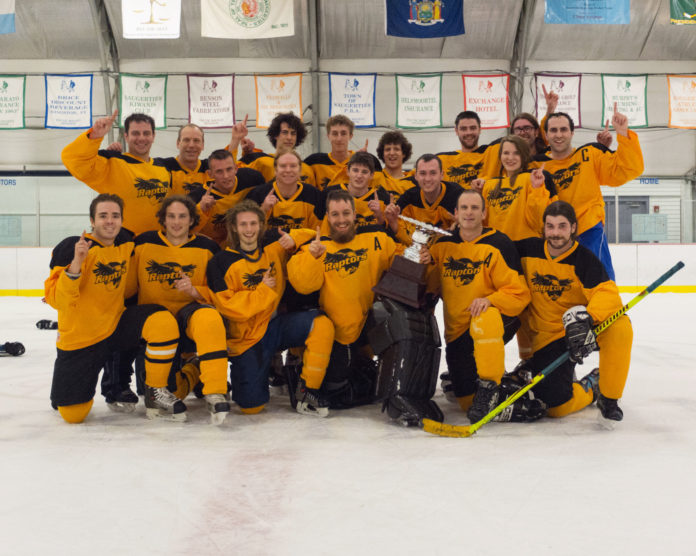 The Bard Raptors recently swept the best two-out-of-three finals in their inaugural year in the Saugerties Community Hockey League.
The Raptors came out flying in the first game March 4 at the Kiwanis Ice Arena in Saugerties, winning 5-1 over the Loggerheads. A power play goal by Emmett Brennan started the scoring and Adam LaMotte followed with a beautiful conversion of Tony Ricci's centering pass. With only 1.9 seconds left in the second period, Justin Goldman was credited with a fluke goal off a shot by Tom Mansfield that deflected in off a Loggerhead defenseman. The Raptors kept the pressure on in the final period with a power play goal by Ryan Ahl and a shorthanded goal by Tivoli's Matthew Krajewski. Goalie Jim Chambers repelled repeated Loggerhead onslaughts until finally losing his shutout bid in the final five minutes.
The second game of the finals on March 11 was a classic, hard-fought battle. Bard Prof. Jonathan Becker started the scoring for the Raptors, but the Loggerheads stormed back and took a 3-1 lead on two goals by Tyler Grodzicki and one by Rob Lattimer. The "cardiac kids" Raptors then mounted a comeback, starting with a slap shot goal by Kyle Jennings. Then, with less than three minutes remaining in the game, Raptors defenseman Ahl took the puck from behind his own net, skated the length of the ice, cut through the Loggerheads' defense and scored the tying goal. Moments later, the Raptors swarmed the Loggerheads' zone and Jonathan Becker slammed home a rebound for the game winner with his second goal of the night.
The Raptors' defense was especially strong throughout the game, as Mike McGrinder, Jim Simmons, Adriana Johnson, John Rayburn and Tuck Gaisford withstood a flurry of Loggerhead attacks.
Facebook Comments