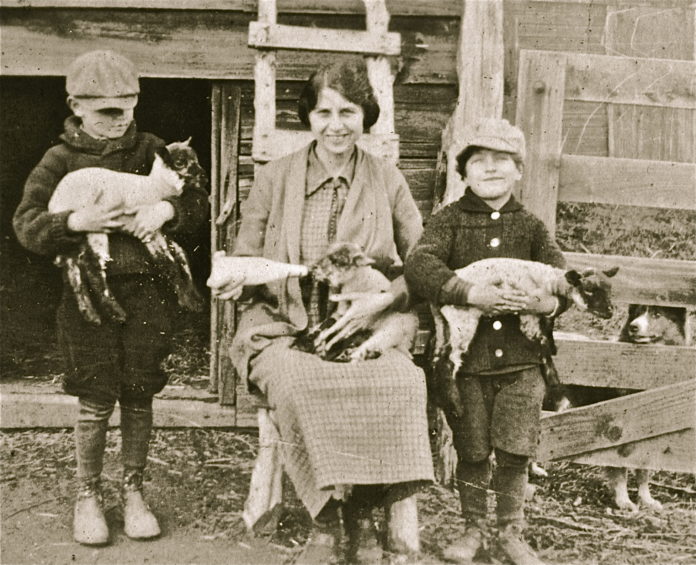 Although March typically roars in like a lion, as it did this year, in Red Hook it always departs to the bleating of hundreds of newborn lambs.
Ever since Napoleon Bonaparte gifted General John Armstrong with a flock of prize Merinos for his farm, La Bergerie (today's Rokeby), in Annandale, sheep have been a mainstay on local farms large and small, generation after generation.
And so it was on the Vogel Farm, on Yantz Road, in March of 1924. Pictured is Lily (Vogel) Dillman, and on her right, possibly her son Louis (who became a prominent dentist in Red Hook for some 50 years), while Norman Vogel, left, proudly poses with the farm's newest ovine editions, as Shep, the border collie, stands alertly by.
Lily's cousin, Henry, and his wife, Elise, had come up from Brooklyn a few years earlier to grow apples, keep cows, chickens and sheep, raise Norman and his brother, Walter – and treat their city-bound relatives to life on a farm. Later, Walter and his wife, Kathryn (Weaver) Vogel, moved to their own Sepascot Home Farm on Rt. 308, outside of Rhinebeck.
Their son Craig, longtime Dutchess County Soil and Water extension agent, married Patsy Braig. Together, they operated Sepascot Home Farm until 1986. Craig died in 2009. Patsy Vogel today is assistant town historian of Red Hook. Her sister-in-law, Nancy (Vogel) Kelly, Craig's sister, is Rhinebeck Town Historian.
Generation after generation, the love of sheep, families and history go hand-in-hand in Red Hook.
Facebook Comments