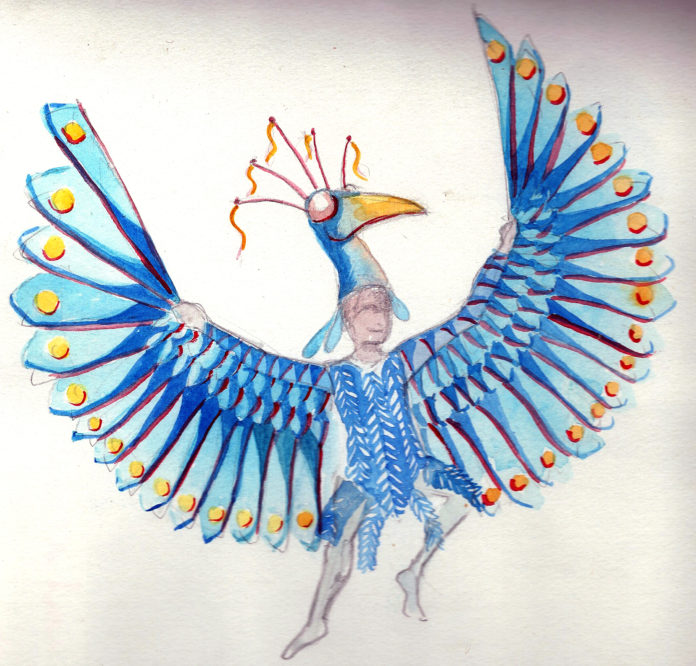 A special show will be on view at the Tivoli Artists Co-op from April 6 through 29. Called "Rokeby Show," the displayed works will represent, in some way, what it has been like for artists to grow up, live, work or play at the Rokeby farm in the hamlet of Barrytown in Red Hook.
Participating artists include Louis Munroe, Marina Michahelles, Sophia Michahelles, Alex Kahn, Steffen Hyder, Tesha Zaloga, Val Shaff and also Co-op member Ania Aldrich, who chose all the artists.
I spoke with Sophia Michahelles, who has made amazing puppetry creations out at the Rokeby site, to find out more about her involvement in this new show and her creative connection to Rokeby.
This isn't Michahelles' first showing with Tivoli Artists' Co-Op. "I participated for many years in the Erotic art shows that Ania started. It was a lot of fun; a big group show. There was a lot of humor in those shows, and I never did any performances, but there was a lot of energy in those shows. This is the smallest show I've been a part of," she said.
It may be the smallest but it is the most focused on the home base of her creativity: "Rokeby is our base of operation," she said, referring to the Processional Arts Workshop (www.processionalarts.org) that she runs with Alex Kahn. Michahelles and Kahn produce massive, looming, mysterious creations for New York City's renowned Village Halloween Parade among other outstanding processional events. (They also lent a hand with Rhinebeck's celebration of Sinterklass.) "But that's not what we're focusing on for the Rokeby show," Michahelles said. "It's Ania, my aunt, who is a member of the Co-op, and she had a slot for her solo show. She wanted to create a show that drew in her strong artistic community. She invited a number of us to participate – she curated us by drawing us in."
Everyone in the group has a different connection to the land "We don't all live at Rokeby; five out of the eight do. It's not so much that it's about Rokeby, but it's been a center, a connection and creative center in our lives. .. In some way, whether direct or indirect, there's a connection. (We'll be) recreating aspects of feelings or the ways we interact with each other."
Rokeby has been part of Michahelles' life for a long time. "I've lived here on and off my whole life," she said. "I spent summers here. Alex and I have been living here full time since 2006, and had been basing our practice of designing processions for a number of years before that. Rokeby acts as our home studio, but not everything we do is here."
Michahelles is still in the process of choosing which of her pieces will make it into the show. "I haven't completely decided yet," she said. "I'm interested in tying the work I contribute to the work we do as processional artists without bringing in artifacts of processions that we build. I could bring in a mask, and sometimes that works, but I'm more interested in looking at different (elements), something that involves drawing. That doesn't always get seen. It might be an opportunity to tap into certain aspects of processions that are important to me but not directly obvious."
She added, "One of the things I really like about Rokeby is how much it has served as an inspiration – there are many people who live on the farm, and not everyone is an artist. I love how at any given moment a number of different things can be happening that have nothing to do with each other. Someone will be having a dinner party while someone else is having a costumed event. It's a layering of events – it's a little bit of the absurd. An odd juxtaposition of events in this place."
"That seeds a lot of my inspiration for the work we do for processions," she noted. "That is something I'm interested in recreating. Maybe having drawings in unexpected parts of the gallery –a quiet invasion of the space. Things are often happening on the periphery at Rokeby."
Rokeby Show
Opening Reception: Saturday, April 7, 5-7 p.m.
Gallery Hours: Friday, 5-9 p.m.; Saturday, 1-5 p.m.; Sunday, 1-5 p.m.
Tivoli Artists Co-op
60 Broadway, Tivoli
845-757-2667
Facebook Comments