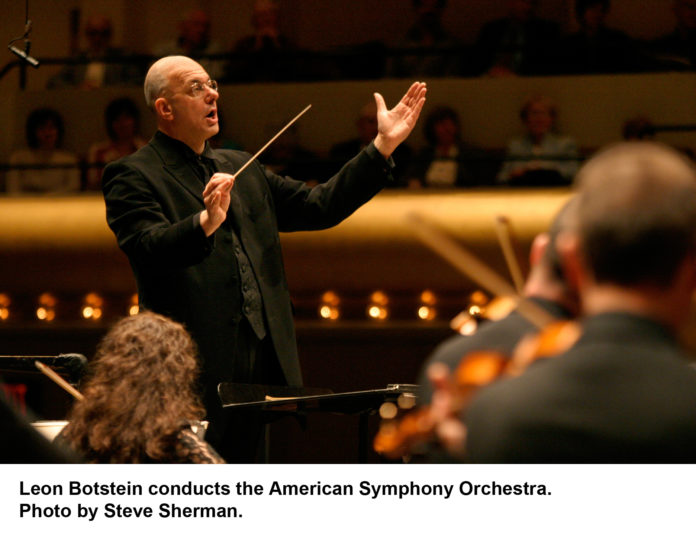 The next two weeks offer you several chances to expand your musical horizons — check out these upcoming selections for your listening (and occasionally, viewing) pleasure.
Open your ears for a striking concert at Bard by the American Symphony Orchestra, under the direction of Leon Botstein. Performing on Friday, April 27 and Saturday, April 28 at 8pm (with a pre-concert talk at 7pm), Tamas Markovics on bass trombone and Sophie Shao on cello, and include the world premiere of Howard Shore's "Mythic Gardens, Concerto for Cello and Orchestra." Tickets are $40 to $25. The Richard B. Fisher Center at Bard College, 60 Manor Rd., Annandale-on-Hudson. Call 845-758-7900 for more information.
Get historical with your musical offerings: SUNY New Paltz department of music presents Collegium Musicum, the university ensemble for early music, in a program of pieces from Medieval, Renaissance and Baroque periods. Included will be instrumental dances, French chansons, English lute songs, troubadour music and early plainchant settings. The performance is on Sunday, April 29 at 3pm in the Nadia and Max Shepard Recital Hall, SUNY New Paltz, New Paltz. Tickets at $8 to $3 and available at the door. Call 845-257-2700 or go to www.newpaltz.edu/music for more information.
Check out a rarely seen musical theater treat: Trinity Players presents the musical "Chess," with music by Benny Anderrson and Bjorn Ulvaeus and lyrics by Tim Rice. The show runs Friday, May 4 through Sunday, May 13 at Cunneen-Hackett Arts Center, 12 Vassar Street, Poughkeepsie. Friday and Saturday performances are at 8pm, Sunday performances are at 2pm. For tickets and information, go to www.TrinityPlayersNY.org or call the box office at 845-227-7855.
Celebrate Cinco de Mayo: The Rosendale Theatre presents "Mexico Beyond Mariachi." Experience a journey that begins over 600 years ago with a look into the fascinating world of the Aztec civilization, then continues in chronological order to show how time, geography, climate and foreign influence have affected folk traditions to the present day. Saturday, May 5, at 3pm. Admission is $5. For more information, call 845-658-8989 or go to www.rosendaletheatre.org.
And for general enjoyment, you shouldn't miss these events:
Join the Center for Performing Arts at Rhinebeck for two performances of dance to benefit the center's recovery efforts from Hurricane Irene. "Dancing for The Center: A Lineage of Love" features dance "elders" Elaine Colandrea and Abby Saxon along with emerging dance talent Leighann Kowalsky. Additional choreographers include the Dream Studio, Katherine Duke/Millbrook School, Joel Hanna, Rhinebeck Dance Center, Studio D, Martha Ross Tobias, Ulster Ballet Company, Dance Beacon/Ballet Arts Studio and Rowan Willigan. Performances are on Saturday, April 28 at 8pm and Sunday, April 29 at 3pm. Tickets are $20 for adults and seniors; $10 for children. The Center for Performing Arts at Rhinebeck, 661 Route 308 Rhinebeck. Call the box office at 845-876-3080 for more information.
For art lovers, a chance to see the next Picasso perhaps? The Samuel Dorsky Museum of Art presents "BFA/MFA Thesis Exhibition 1" — in partial fulfillment of their degree requirements, candidates for a Bachelor of Fine Arts (BFA) or Master of Fine Arts (MFA) degree exhibit a portion of their final thesis projects. The opening reception is Fri., April 27, from 5 to 7 pm; the exhibition runs until May 1. The Dorsky Museum, SUNY New Paltz. Admission is free. Call 845-257-3844 or go to www.newpaltz.edu/museum for more information.
Facebook Comments