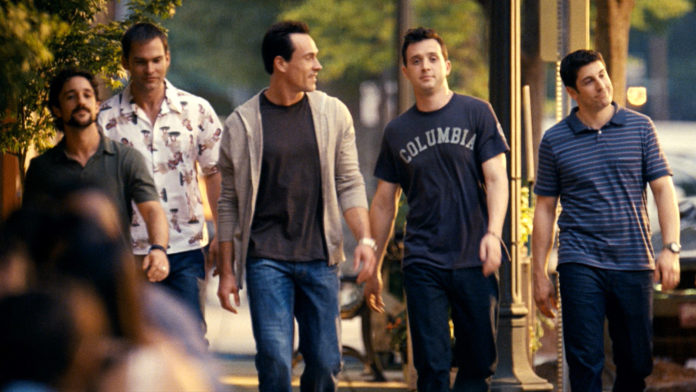 It's 2012, but the old gang is going to party like it's 1999, music and all. That's what "American Reunion" is all about. It's a film for those of us who remember the "American Pie" films. We have seen these characters grow up, and every time they get together, they leave their maturity behind and get into immature hijinks.
I can't say that "American Reunion" is really a good film, but what make it work are the lovable characters. We know these guys, and in a way, they know us. Why did we see "American Pie" in the first place? It's because we were immature teenagers. Nostalgia makes this film work, because the situations they get into as adults are largely the same as they got into as teenagers.
And the film is fun. You have to know the "American Pie" series because this movie is so filled with "Hey, remember that!" Sometimes a movie just reunites us with old friends. In a way, that's what "American Reunion" does. A string of dirty jokes, retro references and reminders of the old times we've spent with the teenagers of the "American Pie" series. "American Reunion" isn't smart, enlightening or really interesting. However, I think if you can't enjoy something stupid once in a while, what's the point?
Now the class of 1999 are all grown up. Jim Levenstein (Jason Biggs) is married to his high school sweetheart, Michelle (Alyson Hannigan); they have a kid, yet their love life has become a bit dry. But their class reunion is coming up, and they hope to relive old times. When they arrive, we get to see another familiar face. It's Jim's dad, Noah (Eugene Levy), who always appears warm and wonderful as he gives his son raunchy advice. We also get to see the other members of the old gang, like Oz (Chris Klein), Kevin (Thomas Ian Nicholas), Finch (Eddie Kay Thomas), Heather (Mena Suvari) and Vicky (Tera Reid). They have all grown up too, but with mixed results.
They all plan to get together on the week of their high school reunion but wait, where's their old friend, Stifler? (Seann William Scott) It's not a party or a movie without him. Stifler does show up and he brings his familiar grin and devilish personality, as he did in the other "American Pie" films. Oh yes, he's going to screw things up.
We may have all grown up, but sometimes going to the movies lets us be immature teenagers again, and there's nothing wrong with that. In a way, they aren't the only ones reuniting, we are too. At the end of the movie, they promise each other they will meet again and in a way, I'm looking forward to the next reunion.
Click here for more movie reviews from Alec Horowitz.
Facebook Comments