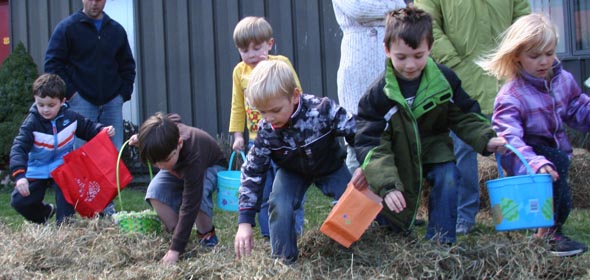 It was the day before Easter and it was Tivoli's turn to host the Easter Bunny and the traditional Easter egg hunt.
Two small sections of lawn outside the firehouse were covered with straw, and peeking out from beneath the hay were colored eggs, hinting at the goodies within.
Inside the firehouse was the Easter Bunny, freshly groomed and ready to strike a pose with kids of all ages. Tables were set up with snacks and bags to decorate for the hunt, plates to create bunny masks and crayons for coloring book pages.
First up were the adorable but clueless 3-and-under crowd, surrounding the hay with their parents and most not really understanding what they were doing and why they couldn't just pick up that egg right in front of them. When Tivoli Mayor Bryan Cranna sounded the start with his bullhorn, the little ones were released and ambled into the hay doing their best to find some eggs with help from their parents.
The second group was the 4-to-6 year olds, many of them egg-hunt veterans and still true believers. As they surveyed the hay from many angles, siblings and friends consulted on the best tactics and called dibs on certain eggs they could see. Some kids "accidentally" moved hay around the edges in an attempt to identify additional targets. As go-time approached, kids staked out the prime spots along the perimeter.
When Cranna launched the second group, the horde waded into the hay with the older kids grabbing up the lion's share of what eggs were hidden, but when it was over, most were satisfied with their haul.
The 7-and-up group was last; their eggs had been hidden across the parking lot around the gazebo and in the gardens alongside village hall.
In the end, good weather and good feelings appeared to rule the day. According to Cranna, the egg hunt has been held each year since 1994. This year's organizers were Elizabeth Young, Barbara Rubertone, Village Trustee Robin Bruno, Mary Ansbach and Cranna.
Facebook Comments